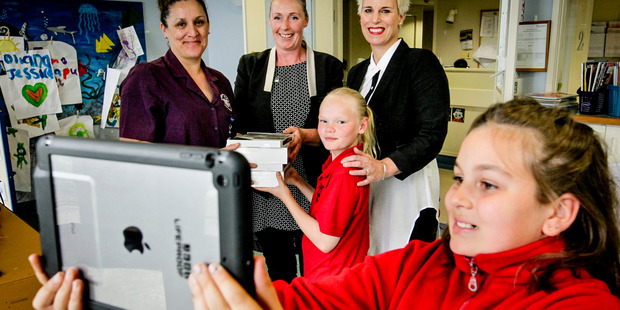 Holly Cheyne loved to play on the iPad during her time at Hawke's Bay Hospital and when her family found out they were stolen Tremains agreed to replace them.
Mother of Holly and Tremains real estate agent, Nikki Cheyne said she instantly wanted to help as she knew how much they had impacted her daughter during her time in the children's ward.
"They helped Holly get through her treatment as they acted as a distraction giving her something else to focus on and also worked as a positive learning tool."
Play specialist, Pamela McCullough, said the iPads were great for preparing children for treatment.
"A lot of them are nervous or scared and there are applications on the iPad that show them what certain things are or the sounds they make. If someone was getting an MRI scan it would tell them all about it so they could get comfortable before they see it in real life."
Holly who is ten years of age said she was able to play monopoly on the iPad during her Peripherally inserted central catheter procedure.
"I was scared but I just played lots and lots of monopoly and it really helped a lot."
Tremains Rentals general manager, Suz Hall said, when Ms Cheyne told her about the iPads going missing they were happy to show their support.
"We decided they were important to replace so we donated two iPads to the ward."
Ms McCullough said the support had been amazing as another family and Harvey Norman had also donated an iPad to the ward.
"When the family went to Harvey Norman to get the iPad they shared the story and the store decided to give us one too."
At one stage the children's ward only had one iPad in circulation between 26 people so the children often had to queue or wait there turn .
Ms McCullough was extremely grateful and happy that they now had four iPads in the ward to keep children entertained during their time in hospital.