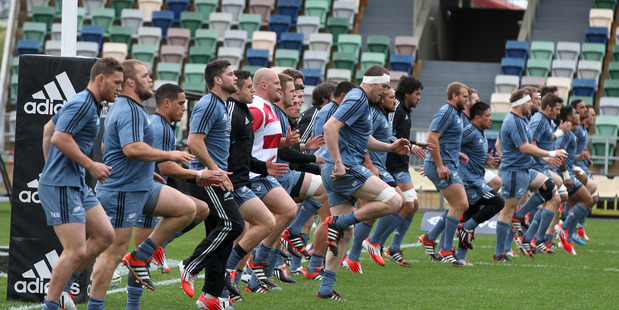 Tomorrow's big rugby test between the All Blacks and Argentina is a sell-out.
As of mid-afternoon yesterday, bar 15 to 20 seats which had a restricted view of the field - and a remaining corporate box in the Harris Stand - all tickets had been sold.
With a full house and a massive crowd now expected, motorists approaching the neighbouring streets to McLean Park in Napier tomorrow are being advised to have detour plans sorted.
As part of what the Napier City Council and police are calling a plan to "minimise stress" for motorists and people heading to the big All Blacks vs Argentina test, several nearby roads are being closed off and a temporary 30km/h speed limit imposed on two major arterial streets.
"Any big sports fixture has the potential to cause traffic snarl-ups," a council spokesperson said.
Police, as well as parking officers, will be keeping close tabs on motorists using Georges Drive and Vigor Brown St, where they intersect with Shamrock St and Ashridge Rd.
The 30km/h limit was being introduced for safety reasons because of the numbers of people crossing the roads on the way to the park.
Nearer the park, only residents and drivers of correctly accredited vehicles will be able to use some parts of Latham St and McDonald St after "road closed" signs go up at noon.
For Morris St, where a food and refreshments strip will be set up, the closed signs will go up at 8am.
All roads will reopen to normal traffic at 11pm.
No vehicles will be allowed to park on the restricted streets during the closed-off times.
Yesterday, while two days out from the big day, the park was a hive of activity.
At least two dozen food stalls were already parked up within the site and truckloads of portable toilets arrived during the day.
As well as the Morris St food avenue, a second food site was to be set up on the grass area behind the Harris Stand. A large number of portable toilets were being placed behind the Graeme Lowe Stand.
Hawke's Bay Rugby Union commercial manager Jay Campbell said the four gates to McLean Park would open at 5.30pm, and he advised people to get there as early as possible because of possible delays through security requirements - as well as 22,500 people all wanting to get to their seats. Among the masses will be plenty from Havelock North; the village, like all business centres in the region, having boosted the All Blacks' profile with retailers using specially produced "We're Backing Black" posters and black balloons to dress their windows.
Havelock North Business Association president Sam Jackman said support had been "nothing short of phenomenal".
The posters had to be reprinted three times to cope with the demand.
Not only had the local retailers got involved but so had the All Blacks themselves.
"On Wednesday the village hosted All Black captain Richie McCaw and Dan Carter, and in the evening All Blacks coach Steve Hansen and a number of the team, including local legend Israel Dagg, attended a private function at The Post Restaurant," Mr Jackman said.
Anyone interested in the remaining corporate box in the Harris Stand, contact the Hawke's Bay Rugby Union today on 835 7617.