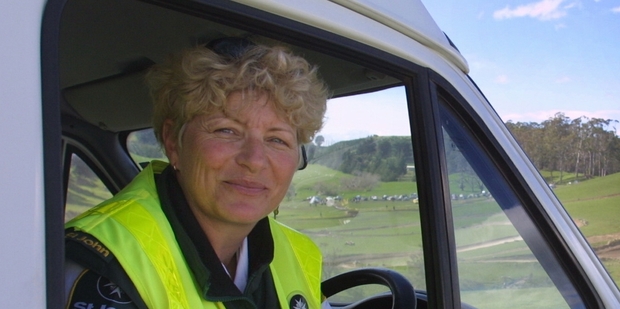 "Family comes first before anything else," Hawke's Bay Magpies manager Derek Martin says.
That was his response after his team learned the mother of team member Trent Boswell-Wakefield had been killed by a train.
Carole Boswell, 55, was hit while walking her dog on Monday about 3.45pm and police responded soon after members of the public saw a body lying by the railway tracks, 200m south of the Marine Parade and Georges Drive intersection.
Senior Sergeant Nick Dobson said the circumstances surrounding Ms Boswell's death were still being investigated and would be reported to the coroner.
Trent Boswell-Wakefield, a loose forward for the Magpies, was part of the side that won the Ranfurly Shield, beating Counties Manukau 27-21 last week.
Mr Martin said the news of the death had "devastated" the team.
The Magpies will be without the 25-year-old's services for their match against Northland tonight in Whangarei.
"It's one of those unfortunate things that has happened and that young fulla has to be with his family now. That's really important that he is with his family.
"That comes first. Family comes first before anything else."
Mr Martin said the team would look to pay tribute to their mate's mother.
"There will be a delegation from the team that are going to the funeral. Because the 22 (playing squad) will be away up in Northland. But the non-playing players will go to the funeral
"The team will wear the black armband for matchday and we will observe a minute's silence before the game as well."
Boswell-Wakefield was also supposed to be a model in a charity fashion show Style for a Cause at Ellwood Function Centre in Hastings on Monday but has pulled out because of the death of his mother.
KiwiRail senior communications adviser David Miller said this week the crew of the southbound freight train had been given time off in the wake of the incident.
He said the driver would not have been aware something had happened until the train was called to a halt by police after it crossed the Ngaruroro River rail bridge approaching Clive, 4km further down the line.
Napier SPCA manager Bruce Wills said Ms Boswell's dog had been put down since the incident.
While an injury to the dog's face had been treatable, it also had a broken back, Mr Wills said.
The severe break was not treatable and the dog was put to sleep.
A service for Ms Boswell will be held at the Salvation Army Citadel in Tait Drive, Greenmeadows, today at 1pm.