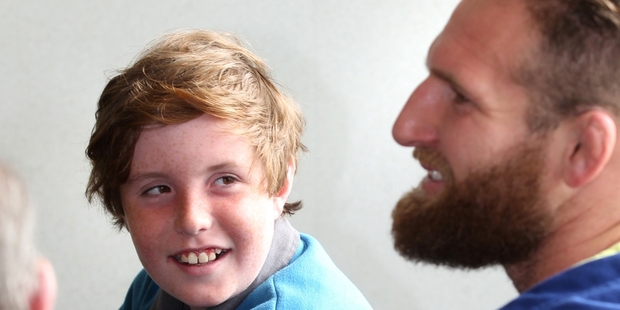 Napier youngster Timothy Donkin met up with idol Kieran Read yesterday buoyed by hopes that despite suffering incurable cystic fibrosis he may one day still be able to follow in the bootsteps of the All Black No8.
Tim, an 11-year-old St Patrick's School pupil, had thought the physical contact of the national game might mean his own dreams were limited to the playground and a bit of sevens.
But his hopes have been stirred by the achievements of Australian frontrower Nathan Charles, who has broken through to international rugby this year despite also suffering from cystic fibrosis.
The possibilities added an extra edge yesterday to what was a reunion with Read at the Te Pania Hotel, the All Blacks' base for the week ahead of Saturday night's Rugby Championship test match against Argentina at Napier's McLean Park.
The two first met when Read and three All Black teammates visited Hawke's Bay Hospital about two years ago as part of the New Zealand Rugby Union's commitment to Cure Kids, the "Official Charity" of the All Blacks.
Despite being a mad-keen All Blacks and Magpies fan, Tim had resigned himself to the likelihood of never achieving the ultimate Kiwi youngster's dream of playing for the All Blacks.
But mum Louise said when the boy heard about Charles, who has this year become possibly the first CF sufferer to play international rugby, or even any contact sport at international level, Tim proclaimed "there's still hope" he may one day join the list.
The potential wasn't lost on the All Black stars, who were about to start another day of preparation for Saturday night's big game, when Tim will be among the 22,500-plus fans packing the park.
Read autographed a photo of the pair's last meeting, the pair talked rugby and cricket, and Timothy got to meet a few other All Blacks, shake hands with Richie McCaw, and have a jersey autographed by the players.
His mum wasn't able to be there - it was Tim's moment, accompanied by dad Bill - but Mrs Donkin said later: "He phoned me before he was dropped back to school, and used the word 'awesome' several hundred times."
Tim had been diagnosed with cystic fibrosis when aged just six weeks, and is aware it's genetic, life-threatening, chronic and without cure.
It's characterised by chest infections, reduced lung function and digestive and other issues, subjecting the boy to huge amounts of treatment, which has included 18 trips to theatre, including some in Auckland, but he's managed to keep-up with his education and all the other things that matter.
"Next to medical intervention, sport and exercise play a very large part of Tim's treatment," Mrs Donkin said.
As well as playground rugby, he plays cricket and soccer and enjoys basketball, golf, swimming and tennis.
Last night, the test was inching closer to a sell-out, with fewer than 100 tickets still to be sold, said Hawke's Bay union marketing manager Jay Campbell.
*Cure Kids support is part of the New Zealand Rugby Union commitment to organisations and families looking for answers to life-threatening illnesses among children, along with community support in the form of help for other not-for-profit organisations.
Buy tickets
*Tickets can be bought at ticketdirect.co.nz; or 0800 224224; or in person at HB Rugby Union office, McLean Park.
*A small number of covered and uncovered seats remain for sale at the standard Test Match prices. Yesterday, Hawke's Bay Today incorrectly reported tickets on sale at $17.50 and $12.50 - prices which do apply for Hawke's Bay's first Ranfurly Shield defence on September 14.