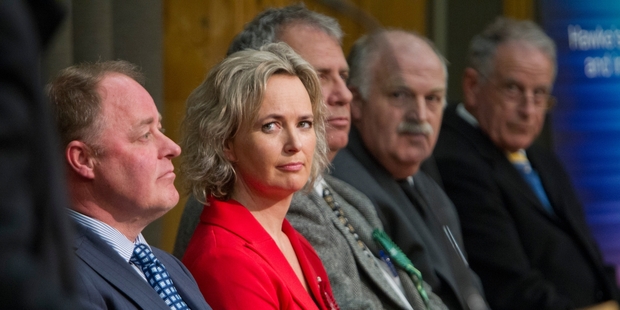 Six candidates standing in the Tukituki electorate went head-to-head last night in a debate which featured everything from silent pauses to rowdy heckling.
Labour's Anna Lorck managed to both attract the most heckling and was also responsible for the longest spell of silence during the Meet the Candidates event in Hastings.
Just under 300 people attended the meeting at Karamu High School, organised by Hawke's Bay Today, and run in conjunction with NewstalkZB.
The tetchiest debating of the night was between Ms Lorck and sitting MP and National Party candidate Craig Foss.
Mr Foss came armed with a list of figures highlighting his government's efforts "to recognise Hawke's Bay's awesome potential" which included: 13,322 families benefiting from the home insulation scheme, 180km of cycleways build through the region, 76 per cent of students now achieving NEA Level 2 and 95 per cent of children participating in pre-school education.
Ms Lorck took a different approach, starting her opening address with a half minute of silence before launching into an attack on her opponent's performance during his time as the local MP.
"No, I have not lost my voice but after nine years of Craig Foss as your MP, Tukituki has now lost its," she said.
"For nine years I've been waiting for a plan for this region."
Asked by the event's moderator, Hawke's Bay Today editor Andrew Austin, to name three things he had done for the region during his time as an MP, Mr Foss listed extending the airport, working to reinstate the District Health Board after it was sacked by then Health Minister David Cunliffe, and supporting projects such as the Ruataniwha dam, and oil and gas exploration.
Ms Lorck drew heckling from the crowd when she said Mr Foss's high place on the National Party list meant he did not have to campaign to return to Parliament.
But Mr Foss said: "This election is not about me. It's about the person you believe can best represent you in government. I don't chase the limelight. I focus on results and work as a team member in a John Key led government."
The candidates had mixed views on the role the Ruataniwha water storage scheme could play in boosting the regional economy.
Mr Foss said once it had completed the consenting process, the region should get behind the project. Ms Lorck said if the business case for the dam stacked up, it needed to provide jobs for locals.
Greens candidate Chris Perley said the dam was "a really silly idea and there are way better ways to start managing our landscapes better".
Conservative candidate Stephen Jenkinson said while the dam would make sense provided the business case stacked up, Hawke's Bay needed to fight central government's focus on the economies of Auckland, Wellington and Christchurch.
Dick Ryan of the Democrats for Social Credit said farmers who did not want to irrigate would be forced to sell up - probably to the Chinese - if the scheme went ahead.
Asked about local body amalgamation in the region, candidates for the four smaller parties, including Act's Duncan Lennox, said they opposed the idea. Ms Lorck said she supported amalgamation, but only once a review of the system for introducing it was completed, and individual communities were given the right to decide.
Mr Foss said the different views of Ms Lorck and Napier's Labour candidate Stuart Nash on the issue meant the pair would "cancel each other out" if they were elected.
Last night's debate was the first of three, with one being held for the Ikaroa-Rawhiti electorate next Monday, followed by one for the Napier electorate next Tuesday.
Lorck tops straw poll
Labour Party candidate Anna Lorck was judged the best speaker in an unscientific straw poll of people attending a Hawke's Bay Today Meet The Tukituki Candidates debate in Hastings last night.
The meeting, held at Karamu High School, was attended by 288 people. Each person was given a voting paper to indicate who they thought gave the best performance on the night. Out of 256 people who voted, Ms Lorck received 85 votes. Current MP and National candidate Craig Foss was second with 67, while the Conservative Party's Dr Stephen Jenkinson scored 62. Green Party candidate Chris Perley received 35 votes, the Act Party's Duncan Lennox 3 and Democrat for Social Credit candidate Dick Ryan 2 votes.
Two voting papers were spoiled. Legalise Cannabis Aotearoa's Romana Manning was ill and did not attend.
• A gold-coin donation entry fee raised $324 for Cranford Hospice.