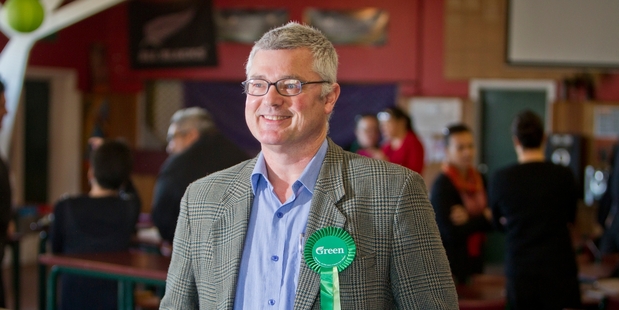 If the electorate in Napier is looking for a point of difference in those on the campaign trail, then Green Party candidate Paul Bailey could well be their man.
Man about the house, that is. Not the Beehive, but the one he shares as a suburban Napier house-husband, and where he plans to remain.
In the minimal number of hours he is able to go door-knocking, he tells constituents not to vote for him, but he implores they do vote Green with their party vote. "At the end of the day, I'm supporting Jack McDonald," he said.
By way of explanation, McDonald is a Green Party candidate in the western North Island Maori electorate Te Tai Hauauru, or more to the point No20 on the Green Party list, on which Mr Bailey did not seek a place. "If he gets in, then we've done our job," he says, possibly with a helping hand from Dirty Politics, the election mire which he says barely seems to rate with those he's encountered on the trail thus far, those who seem more interested in policies.
As it happens, there's a bit of dirty politics right outside as we catch up at his home on the corner of Nuffield Ave and Lowry Tce, within walking distance to the Marewa Village Shopping Centre - and he was keen to get it cleaned up as soon as possible. Nestled among the shrubbery on his own corner, there's the Green Party billboard of co-leaders Russel Norman and Metiria Turei, outside Parliament and looking as if they'd just been married, the hoarding as clean and untouched as any wedding pic might be.
Nothing wrong with that but on the corner across the road there's a strategically-placed billboard of Labour Party hopeful Stuart Nash.
Not much wrong with that either, except that those who deface election hoardings have been at work during the weekend with black paint, calling Mr Bailey's similarly married-with-kids September 20 election opponent something which he probably is not.
Mr Bailey conjectures it's not just the work of someone with nothing better to do. Even tagging, he observes, has much more class, and adds: "That's nasty."
In the spirit of a clean campaign, he'd already Facebooked Mr Nash's campaign manager to let him know. "They'll probably get down to clean it up later," he said.
Mr Bailey, who polled third in the Napier race three years ago behind now-retiring National MP Chris Tremain and Mr Nash, has in many ways never stopped campaigning.
He has an integral role in the Green Party policy committee, which has been the major political reason for any time away from home, where he lives with wife Barbara ("the breadwinner") and their two children. "She (Barbara) takes a supportive role," he says.
Growing up the son of a builder, who was probably the biggest employer in Woodville at the time, his parents imbued a philosophy that nothing was obtained or attained without being earned, which he will invoke on behalf of the party, embarking on the series of debates and meetings into which candidates are thrown in the weeks before polling day. He's disappointed he's not invited to some of them, where he says some host organisations seem to be treating it as a "presidential style" National vs Labour campaign.
Part of the campaign is learning, whether it be talking to voters, attending the Geoscience Society of New Zealand's 2014 Hochstetter Lecture last week, or reading a certain highly-publicised book by Nicky Hager.
"Nothing in it surprises me," he said of Dirty Politics, and in what is perhaps an explanation for not wanting to become an MP, adds: "There are people who are bullies. That's the whole nub of it, and they think that's quite acceptable behaviour. I find it reproachable. It's just not me."
The Green Party's target is 15 per cent of the party vote. Mr Bailey's feeling is that was already the case when he confirmed he was standing again this year but some of the landscape of the political environment, nationally and locally, brings confidence that the share is improving all the time.
"My prediction is that Napier is still a Nash win," he says, pondering the impact of the Conservatives' nomination of high-profile candidate and Sensible Sentencing Trust founder Garth McVicar.
"I think Stuart's right, in that I think the Conservatives will take more votes off National than they will off Labour."
Vital statistics
• Paul Bailey, 50
• Green Party candidate for Napier
• Second-time candidate