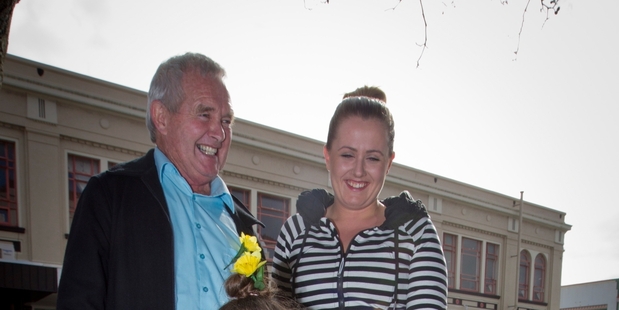 Unlike many faces and names who emerge to contest seats across the country when the political calendar focuses on general elections, Garth McVicar's face and name is familiar.
But not just in Napier, the electorate he has put his name forward for under the Conservative banner.
The former flag-bearer for the Sensible Sentencing Trust (SST) is known from one end of the land to the other ... and I daresay his name is equally well known even in outlying spots like the Chathams.
Ask people if they've heard of Garth McVicar and you'll get answers which swerve towards the trust.
"The bloke who has a go at the judges."
"Oh, he's the chap who wants stronger punishment for the crims."
Hitting the political trail in the world of politics meant he had to let the reins of Sensible Sentencing go, and it would be an understatement to say he had stamped his mark on the country's legal landscape.
He espoused harsher penalties and penal policies amidst a legal system he saw as being too offender-friendly.
He was never backward in stepping forward with an opinion.
Putting it simply, Mr McVicar has a profile.
Back in 2006, in a survey staged by the New Zealand Listener, he came in at 32 on a 50-strong list of the country's most influential people and, a recent poll conducted in Hawke's Bay showed that 78 per cent of those who took part had heard of him.Not bad.
So maybe no real surprise in his deciding to take the path of politics, and while some may raise their eyebrows at his decision to throw his hat into the Conservative Party ring, it fits the bill. It fits Mr McVicar's stance and philosophies.
He is conservative and he happily admits that as we set off for a campaign stroll through central Napier.
There is nothing complicated about Mr McVicar or his stance.
"What we are doing is grass roots stuff ... that's what cockies do," he said with a smile.
"I simply stand up for what I believe and that is what I have always done."
Having farmed for much of his life, he said his father once said to him "you have to leave the land better than when you found it".
"And that is what we want to do - leave this country in a better place."
He has been approached by several parties during the past seven years and asked to stand, but felt uncomfortable about it.
He felt his passion for law and order, fairness, family values and making Napier, the region and New Zealand "a better place", would be diluted by the bigger parties.
"I wouldn't have been able to look at myself in the mirror."
So how did the Conservative thing come about?
"I met Colin (Craig) at a March for Democracy meeting five years ago - I liked the guy."
It grew from there and while he left his announcement to stand late, word had obviously spread.
While chatting, we were approached by Chelsea Henare who was out shopping with her children, Miller and Devon.
She spotted Mr McVicar and came over.
"I am so happy you are standing - it is so good," she said.
"We went to Rotorua recently and we counted your billboards all the way."
It was the future she wanted for her children which swayed her.
It had also swayed a friend she had been speaking to a few nights earlier.
She told her mate she was going to vote for Mr McVicar because she liked the direction his party was taking.
Her mate figured that was a wasted vote so Mrs Henare ran through a list of questions on the voter quiz paper she had come across.
"No, it's probably not a wasted vote," was her friend's response.
A few minutes later, a woman giving out daffodils for the Cancer Society walked up and said "I know you" before adding "you go for it, good on you".
Mr McVicar said he had been getting mainly positive responses and that no one had had "a real go" at him yet.
He said he was not into the personality attacks which often "blighted" the political arena.
"I am not a politician - I'm just someone who stands up for what they believe.
"In SST, we took an uncompromising stance and there were times people got stuck into me and tried to ridicule me - but we've always put the stake in the ground and it worked - now we take it to a higher notch."
Mr McVicar said getting out and meeting people, getting a sense of what was important in their lives and their hopes and aspirations for the future, was at the heart of his political stance.
It wasn't about the money .
"I have no idea what I'd get paid if I got in ... would I get paid?" he laughed.
So who was funding his campaign budget."I'm spreading my children's inheritance ... and they're fine with that," he said with a smile.
We called in to a couple of central city shops and the manager of one said while Mr McVicar was not going to get his vote for the Napier seat, his party vote would go to the Conservatives.
"Got to be happy with that," Mr McVicar said.
Time and again, the years he put in with SST came up.
A couple of days earlier he was invited to a meeting of the Forest and Bird Society in Napier.
One of the members said they had called on him to speak "because of your time with Sensible Sentencing".
He was okay with that because it reflected his philosophy towards the way he believed people wanted their city, region and country to be.