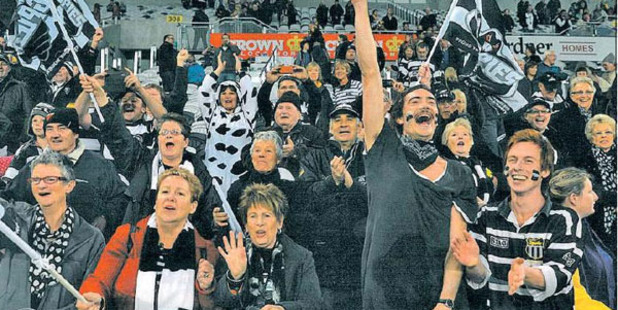 A group of 25 Central Hawke's Bay Magpies fans is keeping alive a tradition Stephen Smith started a quarter of a decade ago.
The CHB Supporters, including members from Hastings and Napier, are off to Pukekohe at 9am tomorrow to cheer on the Craig Philpott-coached Magpies against Counties-Manukau in the ITM Cup rugby match on Saturday.
"Hopefully they'll return with the Ranfurly Shield," says Sue Smith, of Waipukurau, whose husband, the late Stephen Smith, 65, died of cancer on June 19 this year. "He just wanted me to keep the tradition going and support our rugby," Sue says before the 2.35pm kick-off at ECOLight Stadium.
Stephen, a retired DAC Legal practice manager, originally started the fan base as the CHB Referees' Travel Club.
"Stephen's organised it right from the start. Originally the refs went to it but then they drifted off so it's just the supporters now," says Sue of her husband, who controlled matches up to premier club level in a 35-year stint.
He later coached the whistle blowers.
"He loved his rugby and cricket."
Sue says it wasn't difficult taking over the reins of organising the trip.
"I organised a bus, booked the motel and got tickets from the Counties-Manukau union," she says, adding the group will spend two nights in Pukekohe and will stop in Hamilton on the way home.
Last year they jetted off to Dunedin when the Magpies successfully lifted the Log o' Wood from Otago, taking the gloss off their historic feat.
"We were all very excited, but it's just a pity the shield didn't stay here long enough," she says after the Magpies lost it in six days (a record) to Counties-Manukau at McLean Park, Napier.
"Hopefully we'll get it back and keep it a bit longer this time."
The fan club have also made overseas trips to support the All Blacks - Melbourne several years ago and Brisbane in 2012.
"We're all getting older and slowing down a little bit," she says with a laugh.
Sue is a season ticketholder for the Magpies.
"I take my grandson nowadays," she says of 10-year-old Cole Grant-Smith.
The All Blacks play Argentina at McLean Park on September 6 in their Rugby Championship campaign.