A resident in Russell Robertson Drive in Havelock North was surprised to awake on a lazy Sunday morning to an invasion of garden gnomes.
"It was very strange," the woman said. "I suspect it was just some high school students getting up to mischief."
Concerned that someone would be missing them, she came to the media with the story.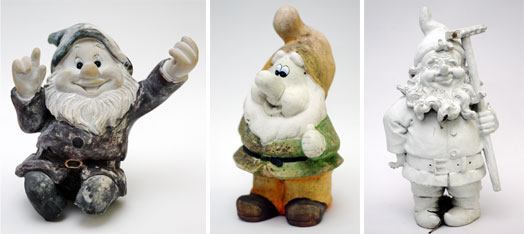 The group of gnomes that were handed in to the Hawke's Bay Today office.
Actually, she went to the media complete with the gnomes - two cardboard boxes full - and deposited them on the counter of Hawke's Bay Today.
On hearing of the newspaper's ceramic crew, Havelock North resident Kim Toheriri identified the second-tallest of the garden accessories as Douglas.
"Douglas belongs to my friend," she explained when she came to claim him. "She is in Australia on holiday but when I scanned the photo in the paper and sent it to her she recognised him immediately.
"Douglas belonged to her late mother and she was distraught when he was taken.
"I'll be taking him home with me for safekeeping until she returns from her holiday."
This still leaves six unclaimed garden gnomes in the Hawke's Bay Today office.
Please check your gardens. If there's a bare patch where once there was a gnome, we may have it. Call into the Hawke's Bay Today office in Heretaunga St, Hastings.
Next trending article: Violent robbery at Hasting's Dairy