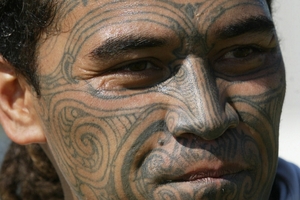 A Hastings man has told the High Court the "hazy figure" who tried to kill him as he slept was former Ikaroa-Rawhiti by-election candidate Maurice Wairau.
Wairau, 37, appeared in the Napier High Court yesterday to face a charge that he attempted to murder a Hastings social worker when he entered his home, armed with a knife, on December 20, 2012.
The incident arose because Wairau's former partner left him for the complainant after the pair met online and developed a relationship.
The complainant said he was asleep when Wairau presented himself as a "hazy figure".
He described to the court and Justice Susan Thomas that he felt a "searing, sharp, burning sensation" as he was stabbed near his heart on the left side of his chest.
Later he was repeatedly "beaten and kicked" in the head.
The man recalled knocking the knife away from Wairau, despite the former candidate and his defence counsel, Tony Snell, claiming Wairau "threw away the the knife and carried on with the assault with his bare hands".
On June 9 Wairau pleaded guilty to three charges related to the attack, including wounding with intent to cause grievous bodily harm, aggravated burglary, and arson, after he set alight a Housing New Zealand property in Palmerston North earlier on December 20.
If the former candidate is found guilty of attempted murder his wounding with intent to cause grievous bodily harm guilty plea will be superseded by the attempted murder verdict being sought by Crown prosecutor Clayton Walker.
In February, Wairau's lawyer at the time, Eric Forster, unsuccessfully applied for a section 38 psychiatric report to determine Wairau's mental capacity at the time of the alleged offending.
Wairau contested the Ikaroa-Rawhiti electorate as an independent following the death of Labour MP Parekura Horomia in April last year. He was also an unsuccessful candidate in the 2011 general election.
The trial continues today.