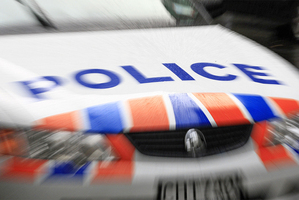 Police attended two separate knife-wielding incidents near Hastings' CBD yesterday - the first left an alleged victim robbed of his possessions with a cut to his face.
Two teenagers were apprehended soon after allegedly robbing two people at knifepoint early yesterday morning.
Senior Sergeant Ross Smith, of Eastern Police District Command Centre, said the incident happened soon after midnight on Heretaunga St West.
Police were told it started on the street near Hawke's Bay Seafoods when two girls confronted another young female. When a male associate intervened, one of the girls produced a knife and the couple were robbed of a cellphone and an iPod.
The girls then fled, but police apprehended a pair, aged 16 and 14, soon afterwards. The older girl is expected to appear in the Youth Court today charged with aggravated robbery, while the 14-year-old will be further investigated by police youth services.
The male who intervened was understood to have been treated for a cut to a cheek.
The maximum penalty for aggravated robbery, which is generally described as involving two or more offenders or as robbery accompanied by the use of weapons or violence, is 14 years' jail.
Another incident allegedly involving a knife happened on the same street yesterday afternoon.
Police national communications centre shift commander Marc Clausen said a woman phoned police about 4pm claiming two people presented a knife at her on Heretaunga St West near Carl's Jr.
However, the woman later refused to interact further with police.
In response to the incidents, Hastings Mayor Lawrence Yule said the Hastings District Council's security service and City Assist programme had made "a fundamental difference" to safety in Hastings CBD.
The City Assist team is made up of six members who provide an authoritative presence in the CBD, patrolling from 9am to 6pm.
The council also employs a security service which patrols council facilities at night and does general sweeps through the CBD.
Mr Yule acknowledged there was an issue with youths carrying knives in the city.
He said Hastings residents should report suspicious activity to the police or anonymously on the Crimestoppers line.
"The only thing we can do further is to make sure the eyes and ears of the public are relaying information to the police on a regular basis."
Hastings City Business Association manager Susan McDade said safety in Hastings was a major focus and "a huge concern" for the association, although there had been "huge strides forward" in safety in the CBD in the past year and a half.
Ms McDade said there was greater community awareness in Hastings CBD, thanks to the Council's City Assist programme and security service.
But increased safety in the CBD may have pushed problem areas outward into the outskirts of the city, she said.
Hastings Community Patrol chairman Richard Sanko leads a team of 12 people who patrol the city and its outskirts at night. Patrols are done on Fridays and Saturdays, finishing at midnight.
Mr Sanko said the patrol was "massively" understaffed and was calling for people to join. At present there were more women in the patrol than men.
"We basically need more men to stand up and join us," he said.
However, he hadn't noticed an escalation in safety issues in Hastings during the colder winter months.