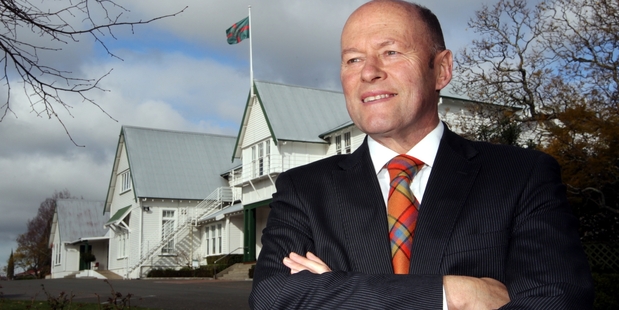 Hereworth School principal Ross Scrymgeour is swimming against the teacher tide in support of National's proposed scheme to pay effective teachers more.
Most primary school teachers are opposed, about 93 per cent of members of the New Zealand Education Institute (NZEI) voting against the proposal.
The Government has set aside $359million over the next four years, with half earmarked to pay effective teachers and experienced principals to raise student achievement in clusters of about 10 schools.
Mr Scrymgeour said highly effective teachers needed to be financially rewarded to stay in the classroom. "We need to reward our best teachers appropriately and keep them in the classroom for as long as possible," he said.
Too many went too quickly into out-of-classroom school management positions, he said.
"This means students are not always sitting in front of and learning from our best teachers."
Napier's Labour candidate Stuart Nash said Mr Scrymgeour was in a primary-school bubble.
"He is head of a private school where only the most privileged can attend. What we are talking about is the state sector, where you have to have an environment that allows kids to maximise their opportunities.
"The evidence shows it is more important to get class sizes down so teachers can give individual attention to all children."
Tukituki Labour candidate Anna Lorck said the lack of support for National's policy in the primary sector showed a disconnection with educators.
"The primary teachers union shot it down and I think there needs to be a discussion with teachers first," she said.
"The response to National's education policy again demonstrates they are not listening to a majority of teachers."
She said paying teachers more needed discussion but paying principals extra, more than the median weekly income, to support another school for a few days a week, "doesn't make sense".
"It is about talking to teachers first and getting a really good plan to go ahead so we can pay our teachers more, have smaller class sizes and greater investment in professional development and teacher support.
"They are doing one of the hardest jobs of all and it is getting bigger and bigger."
Tukituki MP Craig Foss said the secondary teachers' union was on board with the policy as was the principals' association. Only the NZEI took issue.
There needed to be a pathway for good teachers "so they don't necessarily have to go and be a principal".
"So not only do the kids lose out on a good teacher, the teacher loses out on something they love."
National's policy was not an alternative to smaller class sizes.
"It is dealing with the frustration that many in the sector have had on how we can reward great teachers and keep them in the classroom.
"Currently the only path is to go into administration and we lose their brilliance in front of kids."
Napier's Green Party candidate Paul Bailey said the money National planned for its policy could be better spent, especially in lower-decile schools. While New Zealand had students achieving at very high levels, the amount of under-achieving was higher than in other OECD countries.
"We don't think that is caused by poor teaching," he said.