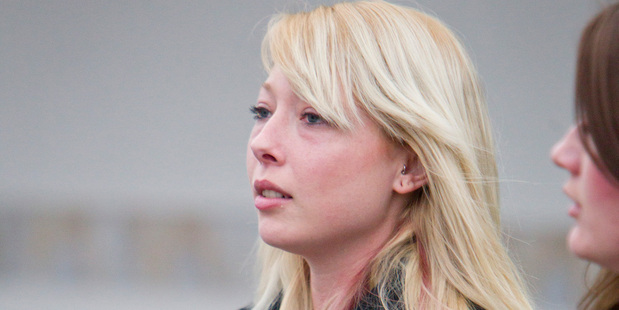 A young Hastings woman has been found not guilty of fatally stabbing her boyfriend.
Juliette Anne Gerbes, 21, was facing her second trial for the manslaughter of Christopher Robin Jones at the High Court in Napier.
Her first manslaughter trial in February ended with a hung jury.
She has defiantly fought the charges relating to her 22-year-old boyfriend's death in the early hours of October 13, 2012, at a King St flat, in Hastings.
Justice Lowell Goddard provided the jury with her final submissions this morning before they retired to consider their verdict.
"There is no doubt that Mr Jones died from the stabbing ... the question is whether Miss Gerbes is criminally responsible for his death."
She acknowledged the jury had to consider if the stabbing was accidental or if there was a "reasonable possibility of self-defence".
"This is a tragic case. A young man has been killed and a young woman is on trial for manslaughter," she told the jury.
Yesterday, forensic pathologist Martin Sage, who carried out the autopsy on Mr Jones, gave expert evidence.
He said the single stab wound resulted in "torrential bleeding" and an unrecognisable blood pressure when Mr Jones reached hospital.
Mr Sage added that the wound was at a 20-degree angle, just below the victim's ribs on the left side.
"The emergency staff and surgeons performed a heroic job to try and keep this man alive ... there were enormous amounts of blood transfusion."
Napier CIB Detective Phil Sayers also gave evidence yesterday, which included Gerbes' interviews with police and a video reconstruction of the fatal events.
The night Mr Jones died, Gerbes said the pair had been fighting before he threatened to go to Cru Bar in Hastings to find a woman to sleep with.
After attempting to lock Mr Jones out of the house, she added her partner pushed her into a corner in the kitchen.
"He was trying to be the big man, the tough guy," she told Mr Sayers.
"I just picked [the knife] up to scare him.
Calling him out on his act or to shut him up.
"It was like throwing a cup of water in his face ... It could have been a spoon that I would have held to his face."
Throughout the trail Gerbes has claimed Mr Jones inexplicably grabbed her hands and pulled the knife towards him.
"There was so much blood and I'm freaking out and that's not what I intended when I picked the knife up."
She said after Mr Jones lifted his shirt, revealing the wound, he uttered "call an ambulance, I'm not joking" before collapsing and passing out on the floor.
A large proportion of Crown prosecutor Clayton Walker's case was built on the location of the wound inflicted on Mr Jones.
He said the wound on the young man's left side was inconsistent with a weapon being wielded in Gerbes left hand, as she has stated.
He said the fatal wound was a result of Gerbes thrusting with her right and dominant hand.
Gerbes broke down in tears as the verdict was read, as did the large group of her supporters sitting in the public gallery.
"It's been bloody hard on her," her mother said.
A family member of Mr Jones also yelled abuse and accusations from the gallery at Gerbes as the verdict came through.