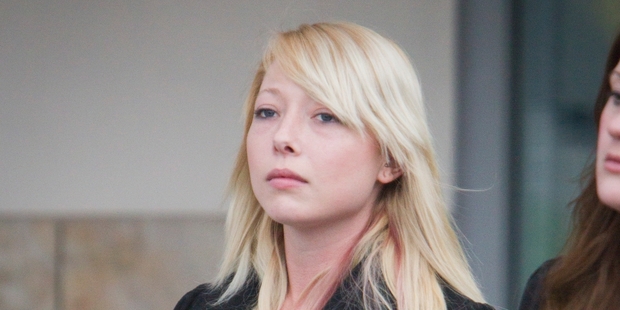 A second set of jurors will begin deliberating today whether a young woman is responsible for the fatal stabbing of her boyfriend.
Juliette Anne Gerbes, 21, is in the midst of her second trial for manslaughter at the High Court in Napier.
She pleaded not guilty to intentionally or accidentally stabbing and killing her 22-year-old boyfriend Christopher Robin Jones in the early hours of October 13, 2012, at a King St flat, in Hastings.
Forensic pathologist Martin Sage, who carried out the autopsy on Mr Jones, gave evidence on the trial's second day before Justice Lowell Goddard.
Mr Sage said the single stab wound resulted in "torrential bleeding" and an unrecognisable blood pressure when Mr Jones reached hospital.
Mr Sage added that the wound was at a 20-degree angle, just below the victim's ribs on the left side.
The "sweeping wounds" he found had been a result of the edge of the blade leaving the young man's abdominal wall.
"The emergency staff and surgeons performed a heroic job to try and keep this man alive ... there were enormous amounts of blood transfusion."
Mr Sage noted the 22-year-old had a blood alcohol level of 92mg per 100ml of blood, compared to the legal limit to drive of 80mg per 100ml of blood, and also found traces of THC, the active ingredient in marijuana, in Mr Jones' bloodstream.
Under cross-examination by defence counsel Eric Forster, he said there was no evidence of any "defensive wounds", often found on a victim trying to ward off a knife attack.
Mr Forster insisted the lack of cuts on Mr Jones' arms and hands were evidence there was no thrust from Gerbes, but rather Mr Jones pulling the blade towards him.
Napier CIB Detective Phil Sayers gave evidence later in the day, which included Gerbes' interviews with police and a video reconstruction of the fatal events.
During the interviews, Gerbes described Mr Jones as "funny" while "things had been a lot better" in an often volatile year and a half-long relationship.
She spoke of how they would argue about "silly stuff", but the relationship would sadly spiral towards violent episodes, especially when the pair drank.
"He pinned me down, ripped me off the bed and was hitting my head into the ground," she said when describing an incident four months before Mr Jones' death.
The night Mr Jones died, the pair had been fighting before he threatened to go to Cru Bar in Hastings to find a woman to sleep with, she said.
After attempting to lock Mr Jones out of the house, she added her partner pushed her into a corner in the kitchen.
"He was trying to be the big man, the tough guy," she told Mr Sayers.
"I just picked [the knife] up to scare him. Calling him out on his act or to shut him up.
"It was like throwing a cup of water in his face ... It could have been a spoon that I would have held to his face."
She said Mr Jones then inexplicably grabbed her hands and pulled the knife towards him.
"He'd gone from full-on rage to his face just [dropping] and had gone all white.
"There was so much blood and I'm freaking out and that's not what I intended when I picked the knife up."
She said after Mr Jones lifted his shirt, revealing the wound, he uttered "call an ambulance, I'm not joking" before collapsing and passing out on the floor.
Gerbes claims she picked up the knife from the kitchen bench with her left hand.
Crown prosecutor Clayton Walker, however, alleges the wound inflicted on Mr Jones is inconsistent with a weapon being wielded in such a manner.
Mr Walker said during his closing submissions: "[Her defence] is simply not plausible. She is not willing to admit either to herself or to anyone else what she has actually done."
He said the fatal wound was a result of Gerbes thrusting with her right and dominant hand.
"It does not make sense that he would deliberately pull a knife into himself ... She stabbed him because she has had enough."
Justice Goddard will provide her closing submissions to the jury this morning before they retire to consider a verdict.