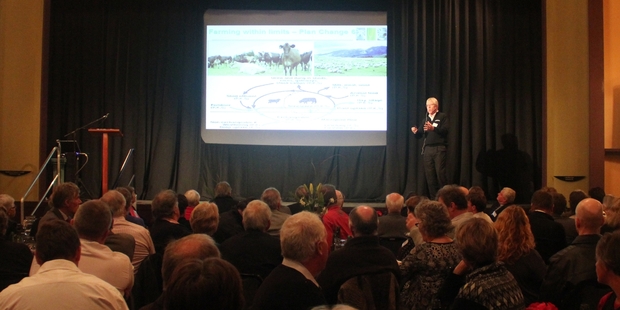 Farmer fertiliser co-operative Ravensdown has met with 300 farmers in Waipawa and Hastings about Hawke's Bay Regional Authority's Tukituki Plan Change 6, which will clamp down on nutrients leaching from farms irrespective of the CHB irrigation scheme going ahead.
Ravensdown chief scientific officer Ants Roberts said many Hawke's Bay farmers would be forced to operate differently.
The latest Board of Inquiry approval of Plan Change 6 is under appeal, but would require farmers to better manage nitrogen and phosphorus with a phase-in period until the mid-2020s. It applied to farms greater than four hectares, orchards, vineyards and lifestyle blocks of more than 10ha.
Farmers would be required to determine how much nitrogen (N) leached from their property by mid-2018, to be compared with a leaching rate in Plan Change 6.
"If you cannot meet that N loss, then you have to go into a consenting process and you'll apply for a restricted discretionary consent, which means the council can put certain conditions on how you farm," Dr Roberts said.
Being more than 30 per cent over the permitted nitrogen loss would make a farm non-compliant.
Regional manager Jamie Thompson said Ravensdown had several tools to help with compliance.