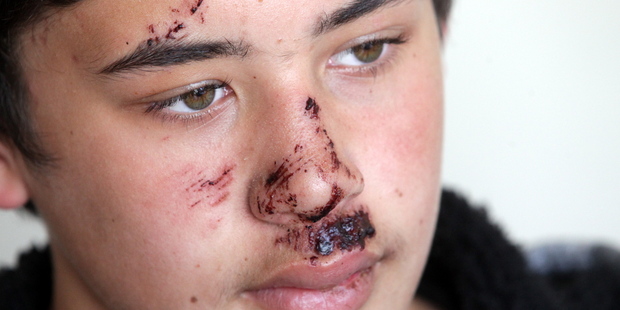 A Hastings 12-year-old, attacked by five teenagers on his way home from school, was in Hawke's Bay Hospital last night awaiting X-rays on a suspected broken nose and cheekbone.
Azaleas Quenton was beaten by a group of three girls and two boys, all believed to be local high school students, as he walked his bike through Akina Park on Friday.
"I drop my friend off at home, he's quite small and an easy target; I saw five people hanging by the toilet block," Azaleas told Hawke's Bay Today.
"I always walk through the park."
He didn't anticipate what happened next, as one of the older boys came up behind and struck him on the back of the head, smashing his face on to the handlebars.
Azaleas fell to the ground, passing out "for a short while", coming round as the alleged assailants continued to kick him about the head and face.
The pain was something he still remembered and it affected him days later, as he had difficulty eating and drinking because of his injuries.
"We have just been back to the doctor today, and the lip is infected underneath," his mother, Cherie Irving, said.
"The swelling has come down a lot and he could open his mouth enough to look inside.
"As soon as he sat down, the doctor said 'I think his nose and cheek could be broken,' so we had to wait a couple of hours at the hospital for an X-ray."
Principals from Karamu High School, Hastings Boys' High School and Hastings Intermediate met Azaleas, Mrs Irving and Police yesterday afternoon to discuss possible leads.
The schools had a "good relationship" and were working together behind the scenes, Karamu Principal Martin O'Grady said.
"Certainly we are all co-operating; the frustrating thing is we have been following lines of inquiry but we have got nothing," he said.
"If Karamu students are involved I'm not even certain, but we are all working together, this is a Hastings concern."
Police would not comment on the investigation yesterday.
It was not the only assault that day - a Maraenui woman said her niece was "unrecognisable" after being "gang bashed" in Onekawa South.
Clumps of the 19-year-old Mount Maunganui woman's hair were ripped out, while her face was kicked and stomped on during a violent assault allegedly carried out by four women and an unknown number of men, about 1am on Friday.
She was first hit in the back of the head inside a house on Alexander Ave, then dragged outdoors, where the beating continued, until her cousin ran down the road and dialled 111.
"She could have died, I believe if the police and ambulance hadn't come, they wouldn't have stopped, they had no intentions of stopping," said the victim's aunt, who wished to remain anonymous.
While no bones were broken, the 19-year-old suffered extensive bruising and swelling to her entire face, rendering her unrecognisable.
"There was a lot of bruising to both sides of her face, you could not recognise her, one eye was black and completely shut - that was from the boots, the bruises all over her body are also from where she was kicked."
After spending the night in Hawke's Bay Hospital the woman was discharged and returned home to Mount Maunganui, where she received treatment for an ongoing eye injury.
"I want something to happen, and I want it to happen through the police, I don't want the fighting," her aunt said.
"It's happening, a lot of it's not reported to the papers."