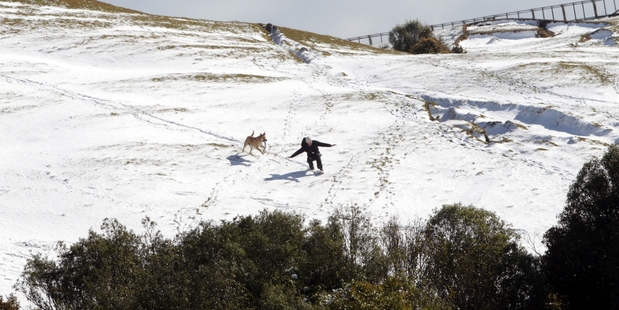 The howling winds which ruffled the region last week, gusting up to 130km/h, are a sign of early spring, a forecaster says - and there are more to come.
WeatherWatch.co.nz forecaster Philip Duncan said powerful winds on Thursday and Friday were due to a "big pressure gradient over New Zealand".
The country was in a "squash zone" between a big low to the east and a high to the west.
MetService meteorologist Liz Walsh said severe gale-force winds of up to 130km/h were recorded on the Mahia Peninsula at 8pm on Thursday.
At 7pm the same evening, gale-force winds of up to 83km/h were measured in Napier.
The winds persisted through Friday and died out on Saturday.
Ms Walsh said the winds brought some cold wind chills and some "good bits of snow" in the central North Island.
A dusting of snow could be seen about the hills at Te Pohue, near Napier, on Friday.
The harsh conditions didn't deter keen whitebaiter Alan King, Havelock North, from braving the chilly waters at the mouth of the Ngaruroro River at 5am on Friday morning.
The whitebait season officially kicked off on Friday and Mr King, who has been whitebaiting on the Ngaruroro River for 30 years, was sure not to miss the opening day.
"The sea was a bit rough, but it wasn't too bad in the river mouth."
Mr King said about 20 whitebaiters gathered on the river but "the cold water put a few people off".
He'd return to the river soon, as his 100 gram haul of whitebait had only been enough for an entree.
Meanwhile, Mr Duncan warned this weekend was likely to see similarly windy weather develop.
"[this] weekend Hawke's Bay is on the edge of a high over the South Island and a subtropical low to the east, in the squash zone again."
While September 1 is the official first day of spring, Mr Duncan said the winds were a sign spring had come early this year.
"In spring we get more and more of these windy setups. We're getting it earlier this year and we're likely to see more windy weather."
But Mr Duncan expected a "settled, dry" start to the week, with a daytime high of 16C today and tomorrow.
Today's weather was considered the pick of the week, with warm fine spells.
Cloud would develop tomorrow, and patchy rain would arrive on Wednesday.
There would be occasional showers about the coast and isolated heavy rain further north over the East Cape.
Winds would turn southerly on Thursday, causing a drop in temperature, with a high of 11C on Thursday and Friday.