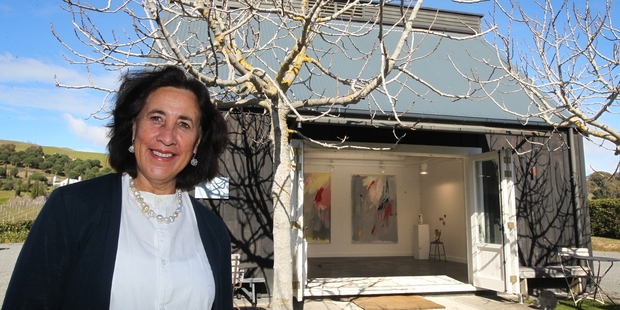 For 12 years Bronwynne Thorp has brought a spark of colour to Havelock North with Black Barn Gallery. Ably assisted by Min Hewat, she has supported local and nationally renowned artists through well regarded exhibitions.
But now, with both her and Kim having to think about ageing parents, and looking forward to the arrival of their first grandchild, she's decided it's time to let it go.
"Things have become harder, that's the reality and I don't know that I have the energy to carry on. It's time to put my focus on my family."
When they moved to Hawke's Bay and their children were off at boarding school, Kim was still at that stage working out of the Bay. "I said I had to do something, I didn't want to play golf every day."
The gallery grew out of a conversation they had about a little building that was going up next to the main winery building. Kim wasn't sure what they were going to use it for, and suddenly the idea came - why not an art gallery? Six weeks later Black Barn had its first show.
She knew she wanted to bring in top tier artists, and the type of work that people would normally have to see in a big city.
The couple had always collected art, so she rang and asked people they'd bought art from over the years, such as Dick Frizzell, Elizabeth Thomson and Martin Poppelwell, if they wanted to be a part of it. They all said yes. "Then I thought, holey moley what am I going to do next?"
Bronwynne was a registered nurse and faced a steep learning curve, never having run a gallery before or having an art degree.
"When you think about it like that, it probably seemed like a long shot but it was worth a shot. I've been good to artists and they have been good to me, we've supported each other along the way and I've made some wonderful friends as a result."
She also enjoyed introducing people, some of whom would come along to every exhibition opening, to artists.
They were not necessarily buyers but often just wanted to be informed about the art. Then she would hear how it had led on to other things, such as people being inspired enough to join art clubs.
The art world these days, however, is changing and the worldwide economic downturn has definitely had an effect. Other long-standing dealer galleries with good reputations throughout the country have closed since the global financial crisis struck.
It is also hard to compete with what's happening online, she says. While anybody who wants to be an artist can put their work online she does wonder how anyone manages to stand out from the crowd without having actual exhibitions.
It's not just the art market that has shrunk, but other industries too that now have to compete globally 24/7.
"This has been a little gallery space that's punched above its weight but it does feel like the right time to close. It does leave the opportunity open for someone else to pick up the reins."
Artist and head of marketing at David Trubridge, Ben Pearce, says the gallery's closure will be a big loss for Hawke's Bay, particularly for those who rely on their art for their sole income. The gallery also had a well laid out stockroom that also generated plenty of sales. "I believe a gallery is still absolutely essential for artists to show their work although there are other avenues now to sell through."
He takes an optimistic view of where things are headed. While New Zealanders are still very property focused and few think of art as an investment, he has seen a different side of things while showing work in Australia. "Art is appealing to people particularly younger generations because property is so far out of reach for so many. It may happen here too."
Artist and designer Leanne Culy says social media and the internet have allowed her to show off different projects and tell her story, but she will miss the opportunity to have a proper show.
She does wonder if there are simply not enough people to sustain so many galleries, not just here but country wide. Those involved with art may just have to take a good look at what they are doing, and perhaps pursue a different business model, as other struggling industries have had to do, she says.
"But it is a shame. I think lots of people come to Hawke's Bay to drink wine, eat beautiful food and look at art. Now it will be a bit like going to a food market but one important element is missing."
Musician and artist Fane Flaws called Black Barn's closure the end of an era. "She did bring in good quality shows and did amazing things for Hawke's Bay. It was nice to have shows in a well-run gallery and I hope it gets replaced."
"In music and art it's bloody hard to make a living anyway. If you have a mortgage, or responsibilities, you just do what you have to do to survive," he said.