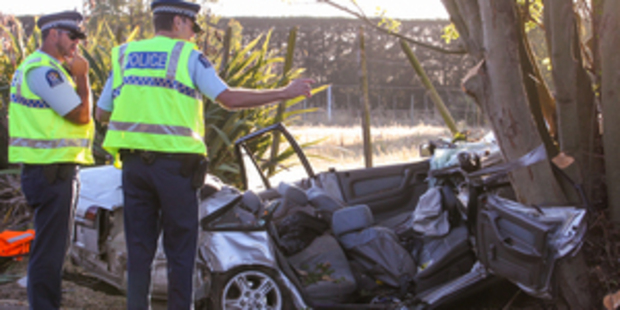 Memories are all that remain for the family of a teenage girl killed during a high speed street race, after a jury found the opposing driver also responsible for her death this week.
Matthew O'Sullivan, 21, was found guilty of racing causing the death of Maree Schafer, 18, on February 19, 2013, and racing causing injury.
She was due to start a hairdressing course at EIT the day after her death, and was a rear seat passenger in the Holden Commodore that lost control and slammed into a tree during the race, that reached speeds of more than 180km/h on Sandy Rd, Meeanee.
O'Sullivan was the driver of a Ford Falcon that was drag racing the Commodore, driven by Brandon Lawrence.
Maree's grandmother, Maureen Fiveash, told Hawke's Bay Today despite the family being pleased with O'Sullivan's guilty verdict.
All that was left of the 18-year-old were memories.
"It's good that after all this time that all three have been found guilty, but it's still not going to bring Maree back, all we've got left of her are memories," she said.
"They will come out from jail after serving their time and carry on with their lives, but she won't come back."
She had attended every court appearance about her granddaughter's death, and said Maree's five younger sisters and the family had been through emotional turmoil for the past 18 months.
"I will be there for [O'Sullivan's] sentencing, we've been through a lot and we will have to try to carry on with life.
She said Judge Jonathan Down indicated O'Sullivan will join Lawrence, Adam O'Sullivan and Jesse Ellmers in prison, but she admitted it was difficult to watch O'Sullivan deny his responsibility in the crash and fight the law.
"We hope no other family has to go through what we have gone through for the last 18 months. The new law, again worked.
"We lost someone forever, the other families [lost their children] for a few months."
Late last year, Lawrence, Adam O'Sullivan, and Ellmers, were each sentenced to two years and three months' imprisonment for their involvement and disqualified from driving for four years.
The trio were the first in the country to be sentenced under then Police Minister Judith "Crusher" Collins' tough new legislation against boy racers with the Sentencing (Vehicle Confiscation) Amendment Act and the Land Transport (Enforcement Powers) Act.
Adam O'Sullivan and Ellmers appealed their sentence but they were dismissed in the High Court in April.
Maree's aunty, Dawn Anderson, posted on the Hawke's Bay Today Facebook page: "[O'Sullivan] was as much a part of the race that killed my niece as was everyone else involved.
"All [the] other people involved were found guilty, including his passenger, so why should he be any different.
"If he wasn't racing it wouldn't have happened and Maree would still be here.
"They all need to take responsibility, he was as much to blame as the driver.
"This boy has no conscience for the life of my niece he had a part of in ending."
Crown prosecutor Clayton Walker said at the end of this week's trial that "anyone who encourages or assists in an offence taking place is also a guilty party".
"[O'Sullivan] played a crucial role in that he was the driver of the other vehicle."
O'Sullivan who appeared in the Napier District court on Wednesday, attempted to extirpate his guilt in the tragedy by saying he braked and slowed down, well ahead of the next intersection, which was the designated finish line intersection.
"I'm not a drag racer, it's the first time I've ever done anything like this," O'Sullivan said in a police interview.
"I hope someone learns from this and doesn't make the same mistakes we did.
"If I could turn back time, I would."
He will be sentenced on September 19.