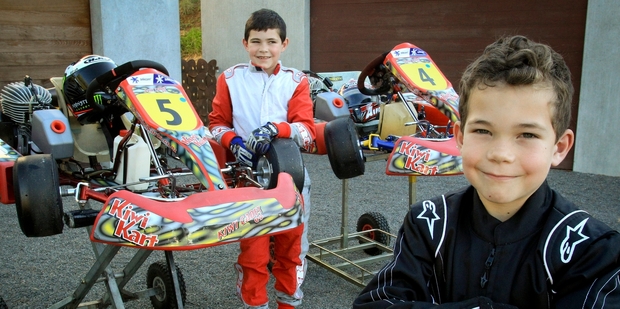 If the genes fit, then why fight it - simply grin and wear them.
The Bewley brothers from Hastings may not have reached an age of awareness just yet but there's no doubting their need for speed.
"It's just in the blood," says Hastings mum Kirsty Bewley of sons Harry, 8, and Tom, 6, who are finding traction at the Hawke's Bay Karting Club.
In sport, the DNA is often a throwaway line for defining success but in the Bewleys' case there's definitely evidence of a tapestry of X and Y chromosomes to suggest the Te Mata School pupils were always on a collision course with motor racing.
How far they will graduate into the world of petrol heads remains to be seen.
What is certain is the youngsters pack a healthy dose of competitiveness on the track.
"I know dad drove," says Harry, as he and Tom seem more preoccupied with chocolate biscuits during the interview at their Pakipaki home.
Their Bay-born father, Dwayne Bewley, prompted international headlines in 1997 when he pushed his Peugeot over the finish line at Bathurst after 161 laps following mechanical problems, agonisingly shy of the chequered flag.
Working as a sales manager at Euro City in Napier nowadays, Bewley was a Fastway Couriers Team driver in Australia who also drove a Mazda Astina in the New Zealand Super Touring Car.
The former motorbike racer established Bewley Racing with Subaru.
In 2001 he returned home to karting after Holden Dealer Team owner, the late Peter Brock, had asked him to test drive.
Bay-born Kirsty Bewley is a former rally driver.
"I met Dwayne at the car club," she says.
Her father, Doug King, 68, is an original member of the Hawke's Bay Kart Club when it started at Irongate in 1969.
But they want this story to be about the boys.
Harry climbed into a shift-gear buggy when he was 3.
Two years later he started racing with the kart club at Roy's Hill.
Three weeks ago, the Year 4 pupil won his first race, the "mini rock" grade for 6 to 11-year-old cadets competing over 12 laps, averaging about 38 seconds a lap.
Says Harry: "I was pretty excited."
A grinning Mum adds: "I think Dad was more excited."
No doubt coming first in a race was Harry's first goal as he set incremental targets to surpass overall leader Jamie van den Berg, 11, whose kart had engine problems in the last race.
"I want to try to keep on beating the guy who comes first," says Harry, who battles a bout of jangled nerves when he finds himself in pole position.
"Their dad helps a lot with hints on what lines to take in a race," Kirsty says before the next meeting on August 22, often staged on the last Sunday of the month.
Tom is also in the same grade, practising a year ago with his brother in their Kiwi Karts that must not weigh more than 97kg, including the driver.
The Year 2 pupil finished third in the last meeting and fifth in the endure class.
Tom is the youngest in the field by about 16 months. Children must be 6 to be eligible.
The younger Bewley brother's coyness is somewhat deceptive.
Explains Kirsty: "Tom's a ratbag, a Mr Joker. He's a social butterfly.
"Harry's a thinker. He's clinical and exact. He's more shy."
According to Kirsty, the older son resembles his father.
"He sits like his dad and counters and he's super-smooth."
The mother also differentiates between the boys' characters - one is meticulous to detail, the other a free spirit.
"Harry doesn't like doing anything he won't do well.
"Tom just likes to give it a twirl," she says with a grin.
The pair has intrinsically picked up the skills in quick time.
"It's taken them six months and they are already on the pace," says Kirsty, who champions a club where like-minded people gather to enjoy themselves, find a sense of focus and help each other.
"There are no expectations anyone should be better or worse because of someone's history.
"Jamie's got up and congratulated Harry and that's a very cool thing."
It keeps children out of mischief.
After just six meetings, the Bewleys are keen to travel around the country to see their boys race.
It's not just a day out at Roy's Hill but adventurous weekends away involving the entire family.
Kirsty doesn't lose sleep over any impending injuries.
That's not only because she was a rally driver but also because of her confidence in the safety measures and gear.
"Rugby's probably more dangerous but it's a case of what you're used to, I suppose."
She recalls Dwayne's accident at Lakeside in Brisbane at the renowned Hungry Jack's Corner.
"He completely bent the car in half. The institute students fixed it up after working on it all night.
"Dwayne was concussed but he drove the next morning."