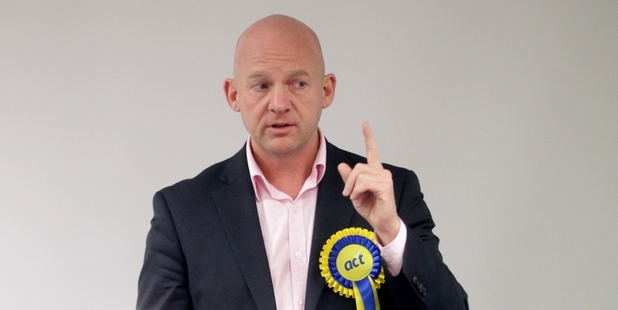 Act Party leader Jamie Whyte says while he hasn't followed the Hawke's Bay amalgamations debate, he generally opposes local government mergers because they increase bureaucracy and don't deliver promised efficiencies.
Dr Whyte, along with Act president John Thompson and party CEO Lindsay Fergusson, visited Hawke's Bay this week to drum up support ahead of next month's general election.
"I've got be be honest, I don't know the facts of the case [for amalgamation in Hawke's Bay] so I would be reluctant to get into a debate on the particulars here, but in general we like small governments, not big governments," he said yesterday.
A consultants' report last year said merging Hawke's Bay's five councils would save $10 million a year but Dr Whyte said while efficiencies were put forward as a reason to amalgamate, they often turned out to be "an illusion".
"When you get above a certain size suddenly you need a whole new layer of management.
You often get the situation where the bureaucrats are now more distant from the things they are governing and they make a lot more cock-ups because they just don't know what's going on."
He said a single council for the region would also reduce the competition currently possible between Hawke's Bay councils.
"At the moment you've got little local governments around the region, they can have different rates, they can have different rules, and the one thing that keeps them honest is that if they start being too burdensome to their ratepayers, businesses can shift and people can say 'sod that, I'm going to go over there' and that does happen all around the world."
Act does not expect to field candidates in Napier, Tukituki or Wairarapa this election, despite running in all three electorates during the 2011 campaign.
Dr Whyte admitted the lack of candidates in the region was a result of the distraction of rebuilding the party and dealing with its "brand issues" after former leader and MP John Banks was charged and later convicted of filing a false donations declaration for the Auckland mayoral race in 2010.
"I've put a lot of time into travelling around the country trying to revitalise the regions and that is working," he said.
"This is the last region I've visited. Maybe if I'd come here earlier we could have done a bit more.
"It's a shame because I believe this has been a strong area for us in the past."
Dr Whyte said Act did not have any specific policies for Hawke's Bay but believed its promise to eventually cut company tax to 12.5 per cent and change employment laws to make it "less risky" to employ staff would assist the region.
"We don't do regional policy. We're not like the Labour Party saying vote for us and we'll give you money taken from some other region," he said.
"Nevertheless, I still think we'd be the best people to vote for if you are in this region because we have the most agriculture-friendly policy."
He said the party was opposed to carbon taxes and would repeal the Resource Management Act.
"A lot of the burdens farmers now face, we would lift."