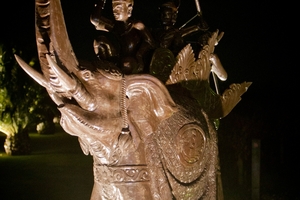 Hawke's Bay's reputation for producing international class syrahs and chardonnays has been underlined in trophy form at the Spiegelau International Wine Awards, which were staged in Auckland at the weekend.
After picking up a gold medal for its 2013 syrah Elephant Hill went one better in a big way when it came to the 19 top trophies being handed out.
The winery took out Champion Wine of the Show with its syrah.
"This wine exhibited everything desirable in top quality syrah, but with added complexity and elegance," chief judge Mike DeGaris said.
"This was an exceptionally strong class with outstanding wines from both Australia and New Zealand."
Elephant Hill accordingly also took out the trophy for Champion Shiraz/Syrah.
Villa Maria also brought success Hawke's Bay's way in the annual competition that drew more than 1300 entries from across New Zealand, Australia, Spain, France, Portugal and Chile.
Its Reserve Hawke's Bay Chardonnay 2013 also followed up its earlier gold medal with the trophy for Champion Chardonnay.
Villa Maria winemaker Nic Picone described the 2013 as "the jewel in the crown for our chardonnays".
Mr Picone said he had an "unrelenting passion" for chardonnay.
"It is a combination of great vineyards plus the dedication and enthusiasm of our team which gives our chardonnay a distinctive edge."
Success also for Black Barn Vineyards, which took out the trophy for Champion Viognier with its Black Barn Single Vineyard Viognier 2013.
It also took the only gold medal in the viognier variety.
Te Awa's Hawke's Bay Cabernet Merlot 2011 took a gold medal in the cabernet sauvignon and cabernet blends class.