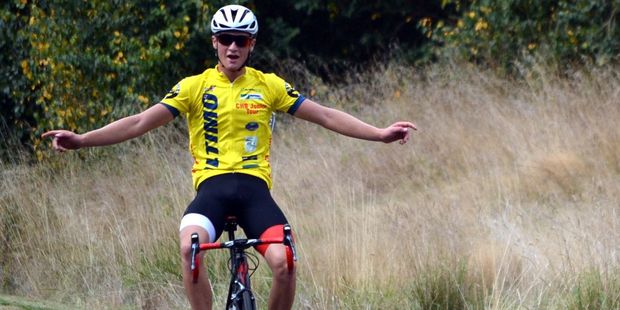 Hawke's Bay cycling coach Ivar Hopman was cartwheeling around his lounge like a youngster on Sunday night and understandably so.
Hopman's flagship rider, Central Hawke's Bay 17-year-old Regan Gough, won gold in the 25km points race at the World Junior Track Championship in Korea. Earlier in the Gwang Myeong Speedrome-hosted champs Gough, who Hopman has coached for five years, won silver in the individual pursuit and bronze in the team pursuit.
"That gold was awesome ... Regan has worked so hard for it. He told me he was stoked with it but at the same time gutted with his silver in the individual pursuit because of a slow leak," Hopman explained.
"After winning two silvers in Glasgow last year Regan knew what he had to do to produce gold. All the trips up to the velodrome in Cambridge have paid off and so has all his simulated training on a streetbike behind me on a motorbike because there is no velodrome in the Bay," Hopman said.
Hopman praised the academic nous of Central Hawke's Bay Year 13 student Gough who finished with 42 points. Russian Nikolai Ilichev was second on 38 and Armenia's Edgar Stepanyan third on 32.
"Points races are thinking affairs. Regan rode perfectly to his race plan. He showed patience in the early running before taking his chance to put a lap on the field and then took his chances from that point. Regan won two of the last three sprints and was second in the other," Hopman said.
He watched the points race via live streaming and could hear Gough's parents Dean and Penny screaming.
"Because the words were in Korean it was tough for me to work out the points. It was as if I rode the race myself. Later Dean and Penny contacted me to say they were proud and over the moon."
Gough, who completed six races over three consecutive nights, has the opportunity to win a fourth medal when he and fellow CHB rider Luke Mudgway compete in the 120-lap Madison tonight.
"Regan is better prepared for this event this year than he was last year when he won silver," Hopman said.
Bike New Zealand head coach Ross Machejefski heaped kudos on Gough.
"His execution was superb. His legs were smashed but we knew they would come right during the race. We can expect big things from this guy who is as impressive on the bike as he is off it."
Gough is the first New Zealand male to win a points race title at the junior worlds and the first Kiwi to win a gold medal since the exploits of current world and Commonwealth Games sprint champions Sam Webster and Ethan Mitchell (with Cam Karwowski) in 2009. Gough's gold is the eighth won by a Kiwi at these championships since 1976.
Regardless of what happens tonight it will be a major surprise if Gough doesn't retain his Hawke's Bay Secondary Schools Sportsperson of the Year Award in November as well as the Hawke's Bay Junior Sportsperson of the Year Award.