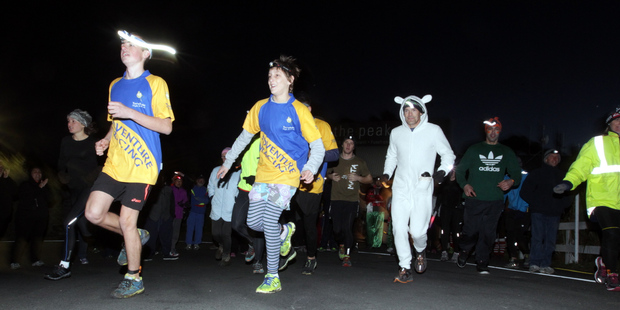 The first Peak Howler endurance event on Saturday night was quite some mystery for the two big individual winners.
From Inverness in Scotland, Sport Hawke's Bay community development manager and triathlon veteran Mike Bond won the six-hour event, dressed as a "wolf in a sheep's clothing", although organiser David Tait mistakenly thought it was a bunny costume.
It was a bigger mystery for Havelock North fun runner Andrew Donnelly who was in the dark in more ways than one as he celebrated four years off the cigarettes by winning the three-hour segment.
He didn't know who he was competing against, and at the time he finished he didn't know he'd won. When it was announced, he was up the road at the Peak House restaurant enjoying the fruits of a hard night's work: a bowl of soup and a bun.
"The first time I've ever come first, and I missed the announcement," he said. As it happened, Bond, who lives on Te Mata Rd, was "the only fool" to try the six-hour event in which he ran 13 laps of the course, starting at 6pm and finishing just before midnight.
The wind-chill got down to about -2C late in the run.
Donnelly, 39, who will be 40 by the time he tries the Sydney Marathon next month, decided in August 2010 to kick a 20-year habit of a packet of smokes a day, and says running "sounded like a fun thing to do".
It was also only after the event he realised his competition had not been particularly strong. He'd set a goal of a lap about every 20 minutes, but beat the target and completed 10 circuits.
Taradale High School teams dominated the relays, winning the mixed and male three-hour relay events, and the six-hour event. A team called We're Wally's won the three-hour relay female section, and the winning six-hour mixed relay team were Blind as Bats.