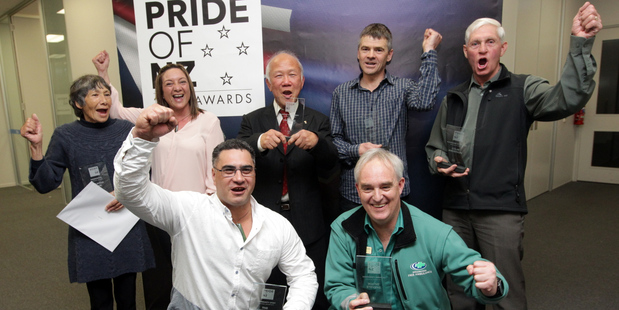 The Pride of New Zealand Awards' regional winners for the lower North Island were announced at a ceremony at Hawke's Bay Today, Hastings, last night.
The inaugural awards recognise New Zealanders who make the most positive, uplifting and inspiring contributions to their community.
The awards ceremony celebrated finalists representing Hawke's Bay, Manawatu-Wanganui and Wellington.
Hawke's Bay Today editor Andrew Austin said the newspaper was proud to support the awards, due to its focus on contributing to the community, as shown by its Bring yer Boots campaign and Fighting Poverty series.
Hawke's Bay Today general manager Russell Broughton said he was glad to get behind the awards, which recognised inspiring Kiwis.
The Hits radio hosts Martin Good and Sarah van der Kley announced winners in six categories, to go on to a national awards ceremony in Auckland next month.
Five of the six were from Hawke's Bay.
They included the Swannell family, Napier, who were recognised for running a mobile soup kitchen for the homeless in Clive Square with the Community Spirit Award.
Kevin Swannell said the family was stunned: "We weren't expecting this and we're really quite overwhelmed.
"It [the soup kitchen] isn't a task we do - it's an expression of our lives."
Wade Kelly, of Hastings, won the Bravery/Heroism Award for saving the lives of four people who got caught in a dangerous rip Waimarama Beach.
Hai Tong Too, of Napier, won the Lifetime Achievement for being a key advocate for minority groups for more than 40 years, and Kathleen Mato, of Wairoa, won the Environmental Award for her work as Whangawehi Catchment Management Group leader.
Colin Anderson, Palmerston North, formerly from Dannevirke, was the Fundraiser of the Year. He raised more than $17,000 cycling for CanTeen.
The only winner from outside the region was Wayne Stevens, Wellington, who has volunteered with Land Search and Rescue for 30 years.
Hastings Mayor Lawrence Yule, who attended, said the region should be proud: "There's a lot of wonderful people that do things in our community and it's great we have these awards to recognise them."
The Pride of New Zealand Awards is supported by the New Zealand Herald and APN regional newspapers, with The Hits radio station and TSB Bank.
The upper North Island award ceremony in Auckland on Monday, recognised Elliot Ikilei, Buddhi Wilcox, Greg Brownson, Todd Hamilton, Tony Scott and Glenn Miller.
The mid North Island award ceremonies, in Tauranga on Tuesday, recognising Buddy Harwood, Julie King, Maera Maki-Anderson, Tony Howse, Peter Blackwell and Jenny Edwards.
The South Island region ceremony will be held in Christchurch tonight.
The regional awards were judged by Silver Fern Maria Tutaia, The Hits radio personality Polly Gillespie, Yealands Estate Winery owner Peter Yealands, Starship director of fundraising Jo Cowie and Herald editor Shayne Currie.
The national awards, to announce the overall category winners and winner of the TSB Bank People's Choice vote, will be held at Auckland War Memorial Museum on September 10. On the national judging panel are broadcaster Judy Bailey, Willie Apiata VC, Sir Peter Leitch, TSB Bank CEO Kevin Murphy and APN New Zealand CEO Jane Hastings.

• For more awards information, visit prideofnzawards.co.nz.