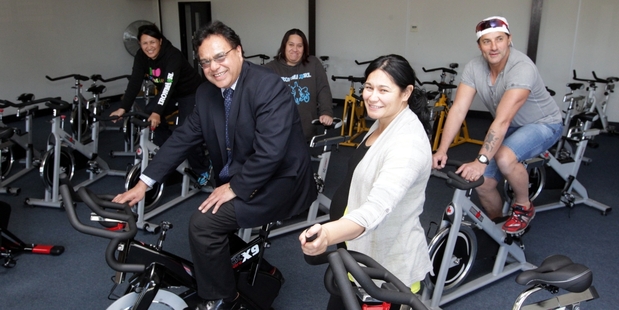 The increasingly popular IronMaori sporting events and its healthy lifestyle philosophy has been embraced by Te Taiwhenua o Heretaunga (TToH) as part of a joint programme to encourage more Maori into sport, good health and fitness.
A new centre, including gymnasium, for IronMaori was opened to the public today at the TToH campus at Heretaunga Park off Orchard Rd.
TToH chief executive officer George Reedy said there was a natural link between the two as TToH provided health and social support while the IronMaori, which was sparked by Havelock North woman Heather Skipworth in 2009 and now sees about 5500 a year taking part, was designed to encourage people of all ages to run, swim and cycle their way to good health.
There was a second link involved also, as Mrs Skipworth pointed out.
It was a case of moving back to Te Whare Oranga where the new IronMaori centre has been set up within the TToH gymnasium.
Her early years included two years at TToH where she ran its healthy lifestyle programme as well as learning the fundamentals of business practices.
"That job at Taiwhenua gave me an opportunity I otherwise wouldn't have had," she said.
"I got a good foundation and it gave me confidence - for me, this is a bit of a homecoming."
She said the secret behind the phenomenal success and growth of IronMaori during the past five years lay in its philosophy, which encouraged whole-family involvement.
"Whanaungatanga is very important - it helps spread the message and participants support and encourage each other."
Mr Reedy said the gymnasium provided a good base for IronMaori.
The gymnasium on site had been under-used for some time and had been leased to IronMaori.
"They have shifted all their equipment into it - it is something which works for both of us," he said, adding that IronMaori and TToH had the same goals for whanau.
"It's about inspiring them to see their own potential, and encouraging and supporting them into taking up the challenge to set and achieve goals."
He said good health was a major part of confidence-building.
"The fitter and healthier we can get our whanau the better for everyone."