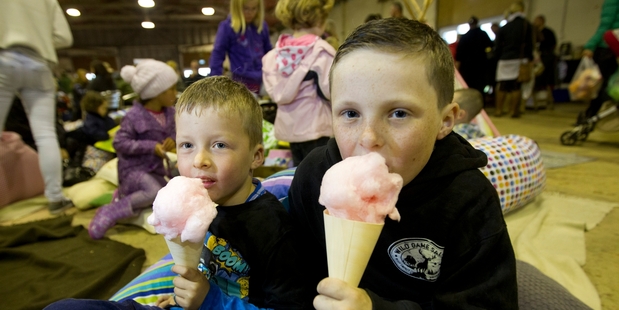 Children and their parents flocked to the Hawke's Bay Farmer's Market yesterday for a new event that caters to families.
The Old Skool Family Day, a new monthly event, was held at the Hawke's Bay Farmer's Market at Hawke's Bay Showgrounds, Hastings.
A farmer's market spokeswoman said the inaugural event was a success despite rainy weather.
"We were really pleased with the turnout considering the weather," she said.
The rain had caused the cancellation of sack races and other games, but families flocked for free candy floss, free candy apples and an apple on a string competition. Four hundred cones of candy floss were given out.
The Old Skool Family Day is a new initiative aimed at introducing children and families to the market. "Parents can have coffee while their kids go out and do activities.
"Market stalls are also encouraged to provide specials and discounts on the day, which makes for some great bargains."
When the farmer's market returns to the Waikoko Gardens in summer, there are plans to enable children to grow produce on site.
The event will now be held on the first Sunday of each month.
Next month, it will be the day after the All Blacks vs Argentina rugby game, hence the planned theme, "All Black Party".