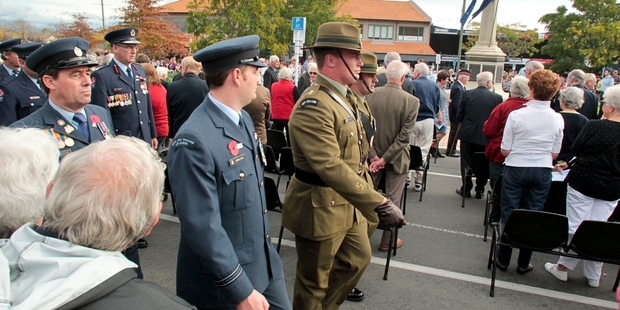 Hawke's Bay war veterans will be better provided for under new legislation designed to improve a 60-year-old outdated law.
The new Veterans' Support Bill passed its third reading with unanimous support in Parliament yesterday, ahead of next week's 100th anniversary of the start of New Zealand's involvement in World War I.
The bill is central to a $60 million Government package announced as a response to the 2010 Law Commission review of the War Pensions Act 1954, described by the Commission as outdated and inaccessible.
Main changes include introducing splitting veteran coverage into two schemes, one for veterans who served before 1974, and another for veterans who served after that time and were covered by ACC.
Further advances included more practical support for veterans and their families, such as increased eligibility for home help or lawn mowing services, and a bigger mileage allowance for transport to medical appointments.
The new bill has been criticised for failing to provide lump sum payments to veterans' families to cover funeral costs after their death.
Napier, Hastings and Dannevirke RSAs (Returned Service Associations) have 6577 registered members between them, including 490 returned servicemen and women who have served in war or peacekeeping deployment, according to 2012 membership figures.
National RSA president Don McIver said while he welcomed the clarity provided by the new bill, he was disappointed lump sum payments for families would only go to veterans with 52 per cent or more disability.
"It should have been opened up to all veterans in the way the other provisions have been.
"It would have cost a bit of money but we believe it would have been a genuine expression of gratitude to all those who served."
The bill would only make a "limited difference" in the day-to-day lives of veterans.
"It's not massive, it's not like their pockets will be full or anything like that, it's just that more thought will be given to their care and welfare."
Labour spokesman Phil Goff said the Government's decision to exclude the lump sum payment for all veterans' families recommended by the Commission was "mean-spirited and penny pinching".
"The Government has declined to follow the recommendation with the comment 'not at this time' and the promise to review the decision in the future," he said.
"But the fact is that 28 per cent of our veterans will have passed on over the next five years.
"As veterans have said to me, 'they'll give it to us when we're all bloody dead'."
However Veteran Affairs Minister Michael Woodhouse said the new bill was "very generous" and included extending the veterans' pension to all, granting $300,000 to the national RSA, and organising and funding veterans to travel overseas for 60th and 70th commemorations of the battles in which they served.
"It is disingenuous for Labour to cry foul over not extending funeral payments," he said.
"Mr Goff has tried to hide the fact that Labour plans to increase the age for entitlement to the Veteran's Pension from 65 to 67, which will remove support for thousands of ageing veterans."
Scheme One of the bill will come into force in early December and Scheme Two will come into force 12 months later.