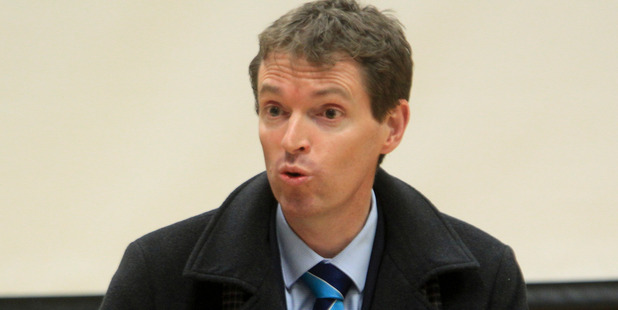 Conservative Party leader and Auckland businessman Colin Craig believes National-held Hawke's Bay and Wairarapa electorates will be an important battleground in party hopes of entering Parliament this year, despite the unlikely prospect of winning any of the seats.
Mr Craig was speaking yesterday in Napier, for which the party expects to name a September 20 election candidate in the next fortnight, completing its line-up for the three General Electorates in the region.
The party has already named Stephen Jenkinson, of Waipukurau, as its candidate in Hastings-based Tukituki, while the candidate in Wairarapa, which includes Central Hawke's Bay, will be Brent Reid, of Masterton. The party is not contesting Ikaroa Rawhiti or any of the other Maori electorates. Mr Craig's confidence is based on what he believes is a strong regional support policy, the votes at stake with the retirement of the National Party's incumbent MPs in both Napier and Wairarapa, and the strong Conservative election-debut result in Tukituki three years ago, when Mr Jenkinson's fourth placing and the party-vote third-placing of 3.8 per cent compared with the nationwide polling of a fifth-placed 2.76 per cent. Needing 5 per cent nationwide to obtain any seats in Parliament, he says 10 per cent is "do-able" in the Hawke's Bay and Wairarapa seats, and even "probable" in Tukituki.
"We are getting a lot of growth in these areas," he said. "We'll certainly be putting a lot of effort into it. I think we are going to do very well."
Having lived in Auckland all his life, high-rising building management millionaire and party-founder Mr Craig doesn't have family in Hawke's Bay, but he regularly visits friends, the numbers of whom he hopes will grow with the party support for the regions.
He says the governing National Party regional policy has "three prongs - Auckland, Wellington, and Christchurch."
"One of the things we have all got to remember is that for New Zealand to succeed, New Zealand has to succeed in the regions," he said, and added: "If a priority is building a $2 billion railway link in Auckland, then you aren't going to create jobs in the provinces."
He said railway developed regionally, and the party would support control of railway going back to the regions, especially if it helped create jobs.
"In some cases it might not be viable," he said, when asked about a future for the KiwiRail's mothballed Napier-Gisborne line.
"But some regions will make it work," he said.
Mr Craig praised leadership shown in Napier, in particular, in opposing the removal of its own people's right to determine their local government destiny.