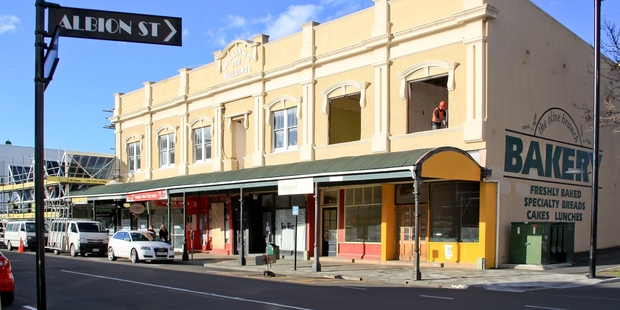 One of the oldest buildings in the Napier CBD is about to come under the demolition hammer after being declared irreparable and posing a "genuine risk" to the public.
Wallace Development Company manager Mike Walker said the company had no choice but to pull down the 103-year-old Williams Building in Hastings St and after a resource consent was issued work is now under way to bring it down.
Mr Walker said while the building had an attractive facade it had not been maintained by the previous owners.
Wallace Developments bought it in 2012.
He said at the time of the purchase the tenants complained about a string of ongoing faults which included a chimney falling down through a ceiling area as well as numerous leaks - to the extent where one tenant was forced to place a small paddling pool on the floor of the first storey.
"A simple visual inspection showed serious cracks in the masonry and while the building withstood the 1931 earthquake it appears to have been badly damaged."
A subsequent formal assessment by structural engineers concluded the building was very weak and only came in at 5 per cent of new the building standards for earthquake strength.
"The threshold for earthquake-prone buildings as defined by the Department of Building and Housing is 33 per cent and buildings are still deemed to be an earthquake risk until they are 67 per cent."
Mr Walker said it was policy to strengthen and redevelop buildings purchased to at least 67 per cent and higher if possible.
He said the company, which had retained and upgraded more than 10 buildings in Napier over the past decade, had significant experience in strengthening commercial buildings but had been unable to come up with a viable solution to the deterioration of this building.
"As such we have no choice but to demolish the property and remove it as a threat to public safety."
While the Napier City Council and the Art Deco Trust, as well as individuals, had expressed interest in retaining the facade Mr Walker said none had been able to offer "real assistance" with funding or offering a solution.
He said the building was uninsured, represented a risk to public safety and in recent months had started to attract vandals.
The long-term plan for the site is the construction of a two-storey building with retail and office space on the ground floor fronting Hastings St with car parking on the first level which would be accessed from Albion St.
Design and construction would begin when the company had secured tenant interest.
"In the meantime the site will be left safe and tidy and will be used for temporary parking."
Parts of the building, including the cast-iron verandah support posts, will be donated to the Art Deco Trust.