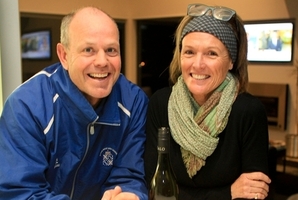 Love thy neighbour, it's one of the 10 commandments and Napier's Shane and Ali Allen are living testament of caring for one's neighbour.
On Sunday, the Allen family saved the house next door from an out-of-control scrub fire.
The family were about to sit down for lunch when they noticed smoke coming from their neighbour's address on Kaimata Rd.
At first they assumed their neighbour and Pacifica Restaurant owner Jeremy Rameka was burning rubbish. But something wasn't right, so like all good neighbours should do, they went to investigate.
Mrs Allen said the family used buckets of water from their neighbour's pool to try and dampen down the scrub fire which was threatening Mr Rameka's home.
If not for the quick actions of the Allen family - to call the New Zealand Fire Service and trying to contain the fire - it was likely the Rameka family, could have returned home to a burnt-out shell.
Like another old saying, one good turn deserves another, the Rameka family showed the Allen family their appreciation with a lovely bottle of wine, some beer and a meal at Pacifica Restaurant.
Well done to the Allen family for showing great neighbourhood support by taking the time and checking out something which didn't seem right. Their actions not only saved a family from loosing their home and possessions but they probably brought their neighbourhood closer together. Also congratulations to the Rameka family for acknowledging their neighbour's efforts with a token of thanks. It just goes to show we have great community spirit here in the Bay.