Woodville was only meant to be a short stay A remarkable contribution a short stay.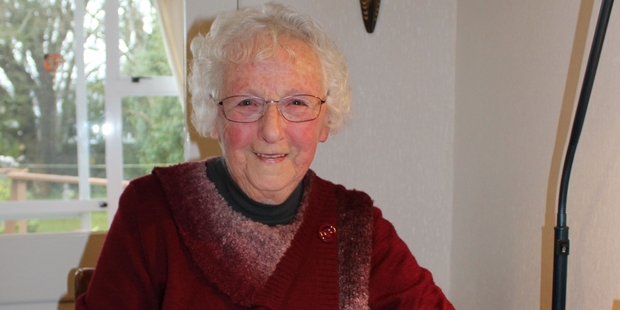 Since Joyce McIntyre moved to Woodville in 1946 she's been a dedicated community volunteer. Now that service has earned the 90-year-old a Tararua civic honour.
However, Mrs McIntyre said her motto for her remarkable 68 years of contributing to her community was simple.
"It's one step at a time," she told the Dannevirke News. "I don't do things for rewards, it's just things need doing, so I do what I can. It's what you do. When I first came to Woodville the Girls' Brigade was folding, so I stepped in to help out and that was the start of it all."
On Thursday Mrs McIntyre celebrated her 90th birthday, along with 80 guests, including Tararua District Mayor Roly Ellis, who was there to present her with a Tararua civic honour for community service.
"Joyce has spent a lifetime serving this community," he said. "This woman has done an amazing amount and Joyce is one of those people who makes you feel as though you've wasted your life.
She's such a role model for this community."
Mrs McIntyre told the Dannevirke News she'd burst into tears when her daughter-in-law Joan told her about the award.
"I was just worrying about something trivial, like I tend to do, when Joan came in and said I was getting an award," she said. "But my community service has never seemed like a big commitment. I've just enjoyed it.
"Woodville has been a wonderful place to bring up my children and all the things I've done are just my contribution because I wanted to do my bit and I'd probably do it all over again - for the community."
Mrs McIntyre isn't one to sit back and do nothing and her can-do spirit has seen her go hot-air ballooning in 2000 and later for granddaughter Norelle's wedding. Then she tackled kayaking.
"The family just turn up and say, 'come on follow me', so I do," she said. "Mind you, I didn't know I was going to be kayaking down the Manawatu River and tackling the rapids. But I didn't fall out. I've always told the family I'll do anything except bungy jumping and leaping out of an aeroplane."
Mrs McIntyre's son Kevin said his mother deserved her civic honour.
"She's done all these things for other people and sacrificed her own time working quietly in the background doing things. It's time she got some reward," he said. "However, when we first began talking about her 90th birthday it was going to be a simple afternoon tea. But the list of people she'd invited grew so much it was looking like we'd be having a week of morning teas, but the civic honour sorted that out."
Mrs McIntyre said she and her late husband initially moved to Woodville for just 18 months, but loved the place so much they stayed.
"I don't feel 90 and I don't have an ache or a pain," she said. "I think that's because of a positive attitude and keeping busy. I don't have time to sit and think what might be wrong with me."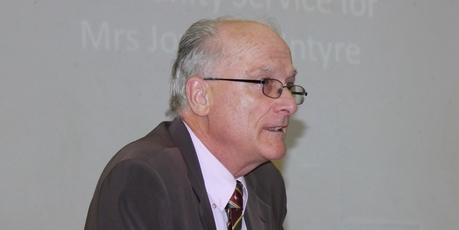 At the civic function last Thursday Woodville's Dr Sam Wilson said Joyce's influence brought him from England to be the town's GP.
"I first came here in 1988 and was just passing through," he said.
"Dr Des Quick was about to retire [after 40 years] and I had an interview with him and then went back to England. Then I received phone calls and letter from Joyce over several months, so my choices of where I was going to practise were whittled down to just one - Woodville. And thanks to Joan my family was well set up here."
Mrs McIntyre had organised a furnished house for the new doctor and his three young children and had organised a bank loan as well.
"I knew his situation and that he wouldn't have enough money for the practice, so I just went ahead and sorted it," she said.
Dr Wilson was proud to say he'd been in Woodville for 25 years, eight months and 20 days.
"Joyce made travelling to a strange and foreign country easy. She's the locum grandmum to my children," he said. "But it's quite bizarre. Joan has had so much to do with the medical profession, but holds the medical community in contempt, she's healthy and well without our help.
"It's hard to imagine Woodville without Joyce."
However, Mrs McIntyre said it was her children who made the sacrifices, especially when she was a volunteer ambulance driver.
"I'd get a call and had to go," she aid. "Maybe we were going to a picnic or to town, it didn't matter. But it was the children who went without."
After taking a senior net computing course at UCOL in Palmerston North Mrs McIntyre typed a book on her life as her 80th birthday present to her family.
"I've got a cellphone too," she said.
In the next 10 years Mrs McIntyre will continue enjoying her time with the local spinning club, as well as watching her grandchildren and great grandchildren growing up.
"I just love them," she said.