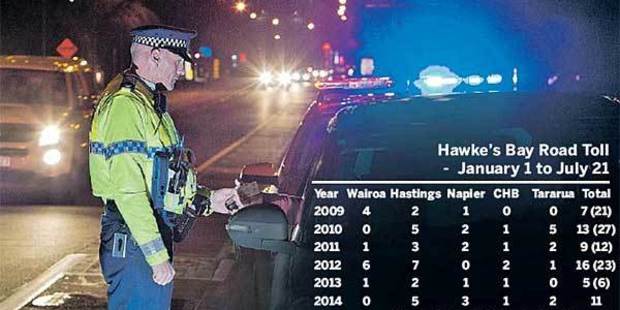 A sharp rise in the number of Hawke's Bay road deaths has police worried the toll this year could be one of the highest in the last decade, just after last year's record low.
According to Ministry of Transport figures for the five local-body areas from Wairoa to Tararua, there have been 11 fatalities - seven in the last 10 weeks.
There were just six in all of last year, the lowest since the Government began collating comparable road toll statistics more than half a century ago.
At the current rate, the toll will be greater than the 2012 mortality of 23 deaths, which was blown-out in the first six months by two northern Hawke's Bay crashes that each claimed four lives.
The highest toll in the last decade was 27 in 2007.
Police, other emergency and road safety organisations had high hopes for another low toll this year when the back-to-back Easter and Anzac Day holiday weekends in late April passed without any fatalities or serious crashes on Hawke's Bay roads, and just four for the year to mid-May.
There were also none during the Queen's Birthday holiday weekend.
While police have proclaimed lower road tolls as being the success of road-safety campaigns and tighter laws and crackdowns on offences from drink-driving to the wearing of seatbelts, they are at a loss to explain the sudden spike.
New police Eastern District manager Inspector Matt Broderick said while there were unexplainable variations, he had noticed the toll in the wider region, and said it was worrying that the traditional worst months of the year had only just started.
"I hate to say it, but this is the busy time," he said.
"The winter months do tend to have more serious crashes on the roads.
"There have been a number of fatalities lately, but they're spread around (the region), and there are no particular (common) factors," he said. "But it would seem there is a high degree of driver-element. We can't say it's just the weather."
Road policing supervisor Sergeant Kevin Stewart also highlighted the vagaries of the statistics, as he headed-out on to the road last night, saying: "There's often no rhyme nor reason."
Translated, he said, that means drivers and passengers have to continue taking more responsibility for what happens on the roads.
"The best route from A to B is not through A and E," he said.
"But we can't be out there driving behind every vehicle. It does come down to what people are doing on the roads.
"For some people, that $80 ticket is all that it takes," he said.
Mr Broderick said some of the seemingly smaller things could be factors in the winter months, items such as windscreen wipers being in poor condition, or driver visibility being otherwise disrupted.
"The roads are darker, and sometimes the conditions are wetter, but drivers need to look also at the fatigue factor," he said. "Just take care to stay on your side of the road."
Most of those who've died after crashes on Hawke's Bay roads this year were at the controls, including six drivers, and three motorcyclists.
Eight of them were male, including all three motorcyclists, and four were female.
Ages ranged from 25 to 87 (both female drivers) - no teenagers and four aged over 50 years.
Mr Broderick said the fatalities were part of a wider picture of vehicle tragedies faced by police, including the death of a young boy after being hit by a vehicle in a KFC carpark in Napier this month.
The figures are for the five local body areas in the Hawke's Bay Today circulation area - Wairoa, Hastings, Central Hawke's Bay and Tararua districts, and Napier City. The nationwide toll for this year up to yesterday was 164, which compared with 142 from January 1 to July 25 last year. The nationwide toll for all of last year was 254, the lowest since 1950. The highest was 843 in 1973, when Hawke's Bay had over 60 fatalities.