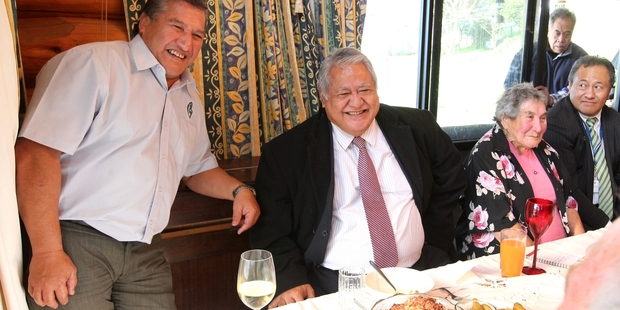 Talks between the Samoan Government and Ngati Kahungunu are the first Samoa has had directly with any iwi about potential economic partnerships, Samoa's Prime Minister, Tuilaepa Aiono Sailele Malielegaoi, says.
Mr Tuilaepa spent Thursday and yesterday in Hawke's Bay as part of an eight-day visit to New Zealand.
His time in the region included visiting fruit-growing and seafood businesses, and being hosted to a hangi lunch at the home of Ngati Kahungunu Iwi Incorporated chairman Ngahiwi Tomoana yesterday.
He also met iwi staff to discuss Samoa and Ngati Kahungunu's shared interest in the seafood business and their potential to work together on other initiatives.
"Certainly we [Samoa] are in a central position so strategically if we could identify an area of mutual interest for investment I think that would be very good, not only in fisheries but also other possibilities - tourism, hotels, industry.
"I think there are a lot of opportunities there in the tourism sector," Mr Tuilaepa said.
The talks with Ngati Kahungunu were the type of discussion the Samoan Government generally had with the private sector "but I think this is the first time we are talking to an iwi as a group in New Zealand", he said.
"It is very exciting because it is quite a different approach in the sense of the government and iwi as an investment group, with cultural connotations."
During the meeting at Ngati Kahungunu's Hastings offices, Mr Tomoana talked about the links between Samoa and the iwi, along with his personal family connections.
Ngati Kahungunu's waka, Takitimu, is said to have been built in Samoa 1200 years ago before embarking on its journey to New Zealand, via several other Pacific islands.
Mr Tomoana's mother, June, arrived by "banana boat" from Samoa as a child 80 years ago.
Mr Tomoana joked with the Samoan delegation that it was good for the iwi to finally meet up "after 1200 years".
"As part of the Pacific, Ngati Kahungunu and Takitimu have been talking for a long time about rekindling the Hawaiki nation.
"And more than just culture and politics - there is the economic side to it, too," he said.
Ties between Hawke's Bay and Samoa included seasonal migrant workers employed in the region's orchards, he said.
"Ngati Kahungunu are ready to trade with our Pacific brothers and sisters.
"Every year we get 500-plus Samoan and 5000 Pacific Islanders through our area. There are opportunities for us. There are opportunities in hosting and support services in a whole lot of areas."
Mr Tuilaepa, who is also chairman of the Samoa Rugby Union, said the nation was excited about the recently confirmed first test between his country and the All Blacks, to be played next year.
"True to the excellent principle of reciprocity, when we come here and the All Blacks make us play in the freezing weather, we are going to reciprocate by making them play at 12 o'clock in our heat. It is how rugby is played amongst friends," he said.
He said the match would be a useful experience for the All Blacks just ahead of the next Rugby World Cup, because the world champions had suffered in the past from playing "softer teams" earlier on in the competition, meaning they were not prepared when it came to serious competition.
"I'm quite sure the All Blacks would like a tough Manu Samoa-All Blacks game because only a few weeks after that we will have the World Cup," he said.