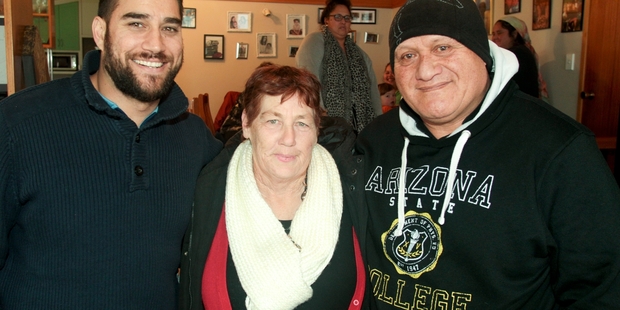 Hawke's Bay-born baritone Phillip Rhodes has built a remarkable career for himself on the world's opera stage.
His early childhood years were rough and tough, but the devotion of his foster mum and dad Pam and Henare O'Keefe spured him on - as did his love and talent for music.
He is back in the Bay to see family and friends and was happy to attend a fundraising event at Mission Estate winery, with proceeds going to the U-Turn Trust and Te Aranga O Heretaunga Marae. Roger Mornoney talks with him.
1 Where did this great love of music come from - when did it first emerge and was there a strong link with Maori heritage early in life?
It started at a social welfare home in Havelock North. Music was a big part of it and there was a lot of singing. I was actually quite shy about it, but they [Henare and Pam O'Keefe who worked with children at the home] kept encouraging us all to express our talents. Maori heritage was missing in the early part of my life - we had Maori culture lessons at primary school but that was about it.
2 Your early childhood years were very tough so the love and support you received from your foster mum and dad [who took Phillip and his five sisters in from a violent family life when he was 10] must have seemed quite remarkable to someone so young.
Oh yeah, it was very different. At first, when I was a child, it did not seem real, but I watched how my sisters embraced them and so it got easier. I was a young child from a home where discipline did not exist. There was nothing like being told to tidy up ... which I'm still learning about. It took a couple of years for me to get used to everything.
3 What was your reaction when you got a phone call from Dame Kiri Te Kanawa after you won the Lexus Song Contest in 2007?
Well, when it was happening I didn't think it was really her ... I thought it was someone just calling me and putting on a voice and saying it was her. I was still pinching myself after winning that prize and this (the call inviting him to get to Melbourne for an audition she was involved with) was just like another award. She has been so amazing for my development. So special.
4 What has been your most memorable performance so far?
Oh yes, Buckingham Palace. Singing for the Queen and the royal family at her Diamond Jubilee (last year). It was just remarkable, and I ended up rubbing shoulders with people like John Cleese and other guests afterwards. Really amazing. And performing in Jerusalem - that was special. So many great moments and I wonder how this all came to be all the time.
5 How do you rate dad's [Henare's] vocal chords?
I would have to say dad is a cross between Tom Jones and Oscar the Grouch.