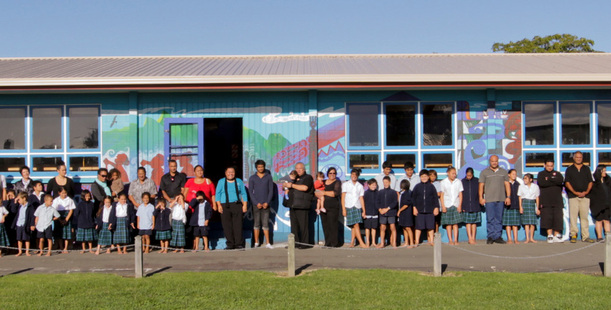 Every day this week we will be publishing a story in English, translated into te reo
Every week is te wiki o te reo Maori for the staff and tamariki of Te Kura Kaupapa Maori o Te Wananga Whare Tapere o Takitimu.
The school, which includes a kohanga reo and a performing arts programme, has about 115 staff and students and all are passionate about te reo Maori, says principal Fleur Wainohu.
She told Hawke's Bay Today the school on Albert St has been going since 1996, and has a simple philosophy, from the "womb to the tomb".
"The philosophy here is education from the womb to the tomb. So it's taking into account our kohanga graduates who come through to the kura school and then to the performing arts. So it's a full life cycle of education."
Ms Wainohu is one of a group of staff members who have been here from the start.
"I was part of the whanau who instigated the kura because we found that once our tamariki [children] graduated they went to mainstream. There was nothing for them. So we decided to build the kura."
This week is Maori Language week. Te reo Maori is one of three official languages of New Zealand with English and sign language the other two. This year's theme is "Te Kupu o te Wiki" (the word of the week) and will introduce 50 new Maori words to the nation over 50 weeks that's one new word a week over a year. After 50 weeks, New Zealanders will have 50 new Maori words in their vocabulary. Ms Wainohu said it was important to celebrate te reo Maori. "It's really important, but it's Maori language week every week day. But I think Maori language week is for all of New Zealanders to celebrate." The school has pupils from Year 1 to Year 8 and has some outstanding results says the school's kaiwhakahaere (general manager) Matua Hook.
"Why we chose this alternate educational system or why we chose kohanga is because there were too many Maori children failing in the mainstream system."
One of the schools' success stories is Nihera Huata, who started in the kohanga and went right through the kura's system and is now a staff member. "When I first started here I was the cleaner. I was full-time studying and then I was part-time at Pak'nSave and part-time here ... I finished my studies and then I started here working with the under 2-year-olds."
Mr Hook said the school has always had a waiting list, proving the concept was a popular one.
Maori Version
Ko nga wiki katoa o te tau, he wiki o te reo Maori mo nga kaimahi me nga tamariki o Te Kura Kaupapa Maori o Te Wananga Whare Tapere o Takitimu.
He wahanga te kura nei o Te Wananga Whare Tapere o Takitimu. He Kohanga Reo, he Wananga Tapere hoki kei te whanau whanui ra. Tata ki te 115 nga tangata e ako ana, e whakaako ana ki reira. E ai ki te tumuaki a Fleur Wainohu e ngakau nui ana te katoa ki te reo Maori.
Ka korerotia e ia ki a Hawke's Bay Today, "he mama te whainga nui o te Wananga nei, ara ki te ako mai i te kopu o te whaea ki te kopu o Papatuanuku." "Ki te whakatutuki i taua whainga nui, ka timata nga tamariki i te Kohanga, katahi ka peka atu ki te kura, na ka mutu ki te Whare Tapere. Heoi, ka ako ratou mai i te kopu o to ratou whaea tae atu ki to ratou pakeketanga, haere tonu, haere tonu."
He mema a Mrs Wainohu o te ropu i whakatuwhera te kura ra. "I taua wa kaore i a tatou tetahi Kura Kaupapa Maori, na reira i hanga matou i te kura, na to matou hiahia kia whai huarahi Maori mo a matou tamariki kia kore ai e riro ma te kura auraki ratou e whakaako."
Ko te wiki o te reo Maori tenei wiki. E toru nga reo whai mana o Aotearoa, ko te reo Maori, te reo Ingarangi me te reo Tohu. He kaupapa hou ta te wiki o te reo Maori i tenei tau, Ko 'Te Kupu o te Wiki'. Ko ta 'Te Kupu o te Wiki' hei awhina i a Ngati Niu Tireni ki te whakapiki i a ratou pataka kupu Maori. Ko te tumanako ka akona e tatou katoa nga kupu e 50 i waenga i te tau kotahi. Kotahi te kupu ia wiki mo nga wiki 50 o te tau.
"Me whakanui te katoa o te motu nei i te reo Maori ka tika!" ki ta Mrs Wainohu. "Heoi, ka whakanui matou katoa o te kura nei i te reo Maori i nga wa katoa, wiki atu, marama atu, tau atu."
Ki ta Matua Hook te kaiwhakahaere o te Kohanga Reo o te Wananga Whare Tapere o Takitimu. "Mohio pu matou kaore e whai angitu ana nga tamariki Maori ki raro i te marumaru o nga kura auraki. I kowhiri matou i tenei tuahuatanga whakaako kia whai huarahi tika a matou tamariki."
Ko tetahi o aua tamariki i whai angatu, ko Nihera Hook, he raukura ia o te kohanga reo me te kura nei. He kaimahi ia o te Kohanga Reo inaianei. "Ko taku mahi tuatahi i konei ko te whakapai me te whakama i nga whare. I taua wa he kaimahi hoki ahau ki Pak'nSave, he tauira e whakaako ana i nga mahi o te whakapakari tinana. Nawai ra ka mutu i taku mahi ako. Katahi ka whai turanga mahi ahau ki te kohanga nei hei kiatiaki i nga tamariki rua tau te pakeke."
Ki ta Matua Hook, "Kua whai angitu te kura nei mai i tona tuwheratanga tae noa ki tenei wa.He uaua ki te kuhu mai ki te kura nei, he rarangi ingoa whanga ta matou, heoi he tohu tera kua whai angitu."