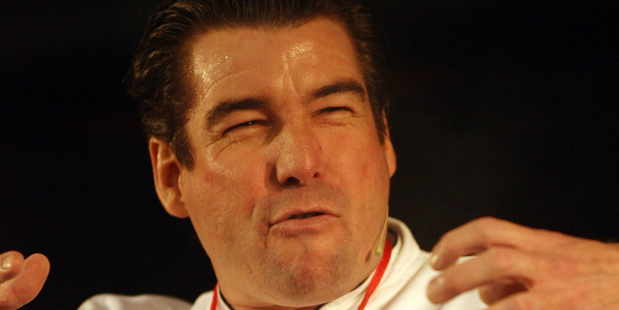 The colourful life of Hawke's Bay's Ross Burden, who took Europe by storm through his love of food, travel and adventure, has ended at the age of 45.
Mr Burden, who was born in Taradale, died suddenly in Auckland Hospital last Thursday while undergoing treatment for cancer.
His sister Kirsten Hughes said her brother had been diagnosed with a form of leukemia in July last year and had contracted an infection in the wake of undergoing a bone marrow transplant.
Mr Burden's life was one of colour and boundless enthusiasm for everything he approached and took on.
And he took on everything from celebrity cheffing and filming wildlife for television, to sky-diving over the Nevada Desert and travelling all parts of the world.
His television profile, after moving to England as a young man, was impressive.
He once said he always felt comfortable in front of a camera after signing up with a modelling agency when he was 17 to help pay his way through university where he attained a degree in zoology.
He also remarked that growing up in Napier, on the coastline, helped equip him to explore the natural world - which he later did for National Geographic and News of the World.
He reached the final of Masterchef in the UK in 1993 and was spotted by actress Joan Collins who chose him to appear in a healthy eating video before going on to make a name for himself on the television show Ready Steady Cook.
Mr Burden also started and ran his own catering company for a time serving fine food to the rich, the famous and to royalty.
The National Geographic work followed, as did an appearance on X Factor when he and two other chefs tried their hand at singing as a trio.
He also popped up on The Weakest Link as well as making appearances at international food festivals and cookery schools.
Mr Burden regularly returned to his home town of Napier and would extol the virtues of the bay's food and wine while appearing at hospitality events.
A passionate advocate of seasonal produce, which was reflected in his recipes and views on food production, he once said "I remember the two weeks in the year when I could pick and eat my granny's raspberries and how much sweeter they tasted after waiting a tantalising 50 weeks to eat them".
He loved to travel, with Asia being a popular destination, and he was an avowed outdoorsman who enjoyed diving and shooting.
He was also fascinated by history and enjoyed opera and learned to speak passable Italian, French and Maori.
His awareness of global health and natural history also saw him take on a co-patron role of Against Breast Cancer and he supported the Children's Wish Organisation and the World Wildlife Fund.
Mr Burden returned to New Zealand to appear as a judge for the first Masterchef series staged here in 2010 and had been working at an Auckland restaurant while sitting a Masters Degree in Maori at Auckland University when he took ill.
His death drew scores of heartfelt comments from those who knew him.
"You lit up a room when you walked in - you sparkled your way through life and it has been such a pleasure to know you," Mark and Sue Birmingham of Auckland said.
Mawera Karetai of Whakatane said "thanks for all you gave the world".
From Reading in England, Catherine Bradley simply said "thanks for the beautiful memories".
His sister described him as a "fantastic, incredible, larger-than-life brother".
A celebration of his life will be held on Wednesday at Auckland University's MacLaurin Chapel at 11am, while another memorial was planned to be held next Monday in his home town Napier.