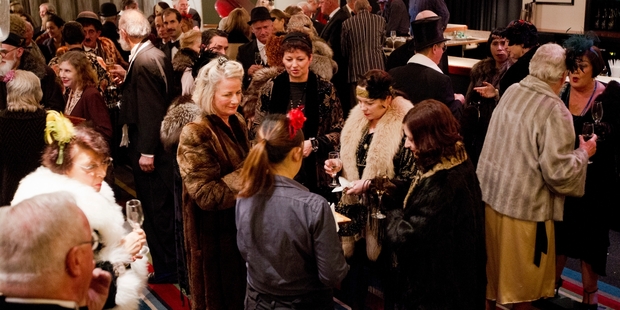 As the 2014 DIY Deco weekend kicked off yesterday it was a case of "what ho, here we go, feels like snow".
There was no snow but the mid-winter chill was definitely in the air, although the events being staged would create plenty of warmth, Art Deco Trust events manager Peter Mooney said, adding it made the wearing of furs as functional as it was fashionable.
"And most things are happening indoors anyway," he said.
The weekend will feature 18 events covering fashion, music, tea, dances, dinners, radio plays, jazz, vintage cars and a vintage railcar which will be making Deco runs today and Sunday between Napier and Hastings.
While the main "Dinner on the Run" railcar event sold out two months ago, there were "a few seats left" on some of the intercity trips.
Ticket sales overall had gone well, Mr Mooney said.
"We are definitely up on last year."
He said sales last year saw about 250 people taking part in events while this year he estimated about 350 to 400 people would turn out.
Sales indicated about 35 per cent of those taking part were visitors from outside the region.
The trust made a ticketing change this year after finding that several new events, like the railcar journeys, did not fit in with the previous "one ticket gets access to all events" system, which had been used for the past three years.
The trust also had to confirm specific catering details for some events, which also required a ticketing change as they depended on numbers booked.
"So from this year we will sell separate tickets to each event in the same way that we do for our February Tremains Art Deco Weekend.
"We have kept the prices incredibly low so people will still get tremendous value for the $50 they would have spent on registration in the past."
Most events, which included dining, were going for $30 to $50, while costs for all events ranged from $5 for "Fabulous Flicks" movie shows through to the sold-out $85 train trip and lunch.
Mr Mooney said that as with the summer Art Deco weekend some events were completely free to attend.