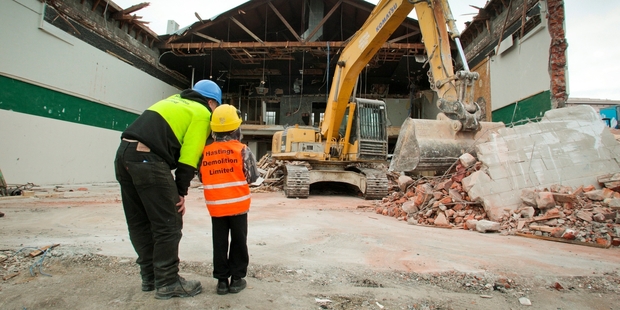 Napier's State Theatre building is having a major makeover into a new cafe and college.
The rear and one roadside wall of the building, which stands at the corner of Dickens and Dalton streets, have already come down and the interior has been gutted.
But Art Deco enthusiasts need not worry about losing another slice of history. The corner frontage, with its patterned ridges and arched windows, will remain.
The theatre is listed with Heritage New Zealand and is on the Napier City Council database of heritage buildings.
Wallace Development manager Mike Walker said the two-storey frontage of the 80-year-old building would be earthquake-strengthened to take it up to 67 per cent of the building code, while the rear section would be a new level.
Wallace Development bought the building this year.
It will be redeveloped into two sites and both have already been tenanted.
The ground floor area of the Art Deco-fronted section will house a 180sq m cafe.
It is understood the cafe operator owns cafes in other parts of Hawke's Bay, but not in Napier.
The second tenant will be the Premier Hairdressing College, which now operates out of a site on Marine Parade.
Mr Walker said the new section, fronting on to Dalton St, would have a 100 per cent earthquake rating and feature a series of window fronts to replace what he said had been a "bland" expanse of wall.
The Dalton St side would also have a new entranceway as part of the hairdressing college.
"The Art Deco front will remain but the back part will be all new," Mr Walker said.
Judd Dougan Team Architects had used existing lines of the old building as a flow-through to the new section.
Stripping out of the interior began several weeks ago, but demolition of the roof and rear section did not get under way until last week.
"We are looking to have it all completed and up and running by the end of October."
The whole project had "taken a bit of putting together" but he said if they were able to maintain a good return it would be "good for everyone".
Mr Walker would not divulge the development cost but described it as "significant" and less than $1 million.
The State Theatre was designed by local architects Finch and Westerholme and was opened in 1934. Its Art Deco styling was as distinctive inside as it was out, although during the 1960s the interior was remodelled and the stylish pattern work was replaced by dozens of giant coloured bubbles across the walls.
There were further changes in 1991 when the theatre was owned by Hoyts and Graeme Edwards, with the interior again being revamped. It closed a few years later and was subsequently used as a youth venue.