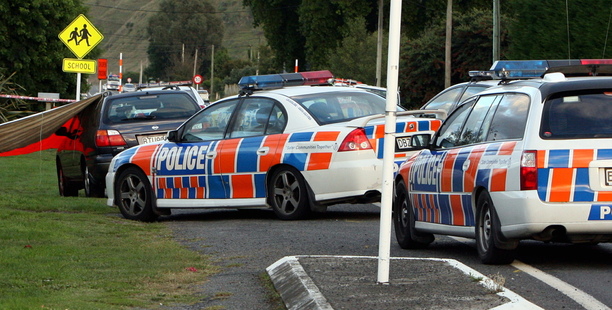 Officers acted outside their training during the 2011 fatal police shooting of a Hastings teenager, a coroner has found.
Lachan Kelly-Tumarae, 19, was killed after a 14-shot volley from a police officer's Glock pistol at Omahu on March 28, 2011.
Coroner Peter Ryan's findings, released yesterday, said the three officers involved in Mr Kelly-Tumarae's death "did not follow police policy and training in the moments prior to the shooting".
The report called for police to review training protocol in relation to the verbal warning issued by armed police officers to armed offenders, and the frequency of firearms training.
Mr Kelly-Tumarae was shot as he got out of a vehicle near a State Highway 50 marae cemetery, following a 14km low-speed pursuit from Napier where he had presented a shotgun at an officer in a chance roadside encounter.
Moments before the shooting, the teenager pointed the shotgun at an officer in the passenger's seat of a patrol car parked alongside him.
This prompted another officer to leave the cover of a second vehicle 14m away.
The officer drew his pistol and issued the warning "armed police", to which Mr Kelly-Tumarae responded by aiming the shotgun at him. Fearing he was about to be shot, the officer then fired a volley.
The teenager remained standing and, believing the man had not been struck, the officer fired a second round of shots.
Mr Kelly-Tumarae fell to the ground and was rushed by ambulance to Hawke's Bay Hospital in Hastings, where he died soon afterwards. In his findings, the coroner criticised the officers, who parked their patrol car alongside Mr Kelly-Tumarae's vehicle, saying if they had acted in accordance with police policy and training, they would have pulled up behind or alongside the other patrol car.
Police officers involved have been given permanent name suppression.
"If officers 11 and 12 had not positioned themselves right beside Lachan's car door, he would not have been able to aim his weapon at them and therefore the situation would not have changed in the way it did."
The coroner was also critical of the officer who shot Mr Kelly-Tumarae, referencing an Independent Police Conduct Authority report into the shooting, which found he acted "on instinct rather than training".
"This raises the question as to the adequacy of police training, as it seems to me that training should override instinct in such a situation." He said there was "some merit" in a submission made by Mr Kelly-Tumarae's grandmother that the warning issued by the officer, "armed police," was not adequate.
He went on to recommend that police review their training protocol in relation to the warning issued by armed officers to armed offenders, "to make it clear that failure to comply with police instructions may result in the offender being shot".
Despite this, the coroner said the "causative factor" in the teenager's death "was his [Mr Kelly-Tumarae's] action in presenting a firearm".
Police firearms trainer and former member of the elite Diplomatic Protection Squad (DPS), Stewart Brodie, told Hawke's Bay Today the usual challenge taught to police in their firearms training was "stop, armed police". "To the best of my knowledge that's always been the warning.
"It allows him [the offender] to know the police officer has the ability to use higher force."
Police assistant commissioner response and operations Mike Rusbatch said since the death, police had introduced an "enhanced tactical training programme" for staff.
Introduced nationally on July 1 this year, the programme included improved training in "all tactical options," such as firearms.
Mr Rusbatch said police policy already requires that armed officers must issue a verbal challenge or warning to an offender before using firearms, provided it doesn't compromise staff or public safety.
Mr Kelly-Tumarae's family could not be reached for comment last night.