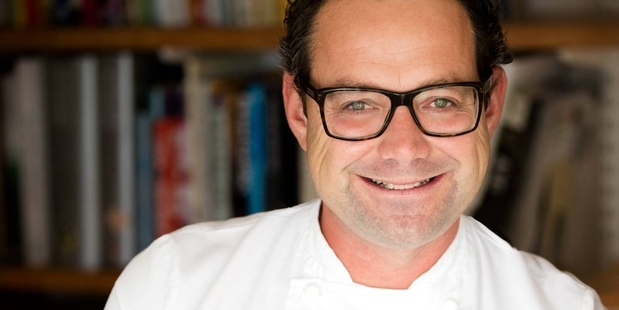 He may have cut his teeth in fine-dining establishments but celebrity chef Michael
van de Elzen is just as happy with beachside takeaway, Amy Shanks discovers.
Waves gently lap at the shore, seagulls circle awaiting a morsel - far below a man sits on the pebbled beach eagerly devouring a meal of chicken and chips.
It's a familiar Kiwi scene, but what may surprise you is the subject - celebrity chef Michael van de Elzen - who admits he's partial to takeout from Ahuriri's Hot Chick when in town.
"I love that place, I can go in there and order half a chicken and just sit back, that's something I really enjoy, there's just something about it," he says.
The personable chef, known for offering healthy alternatives to take out on his hit show The Foodtruck, and owning successful Auckland eateries Molten and Liquid Molten, is also partial to Hawke's Bay's other culinary attractions.
"There are some fantastic restaurants - Black Barn, Craggy Range, Pacifica.
"I have had some of my best dining experiences ever at Craggy Range when David Griffiths was chef."
Not to mention the region's mountain biking opportunities, a fast-paced hobby Van de Elzen enjoys when he's not in the kitchen.
So when asked if he would do a mid-winter cooking demonstration and dinner at Cape Kidnappers, there was only one answer.
"Who could say no to that?" he says.
The event, which runs from July 18-19, includes a five-course menu with an array of seasonal flavours, matched to Te Mata Estate wines.
There's the option to make a weekend of it with pre-dinner drinks hosted by Van Elzen on Friday, followed by a meal at The Farm, then an "up close and personal" cooking demonstration, Saturday morning.
"I have focused the menu on Hawke's Bay, so we can use the local providers. We want it to represent Hawke's Bay as closely as possible, with lamb and honey, there's going to be truffle if we can source it.
"I love Hawke's Bay, but I have never had the luck of getting out to Cape Kidnappers."
People could expect something a little different to The Farm's regular menu, but it would be equally "indulgent".
"You can't expect people to pay good money and offer them a hamburger. If it is a hamburger, it better be a good one."
Van de Elzen loves bold flavours - and flavours which are slightly out of the norm.
Born and raised in West Auckland, the chef cut his teeth in top London restaurants such as Terence Conran's and Bluebird, before opening Molten in Auckland (2003), followed by Liquid Molten six years later.
Molten's success is reflected in awards such as Metro Magazine's Best new Restaurant of the Year, Cuisine Magazine Restaurant of the Year finalist, and a listing in Food and Wine Magazine (USA) World's Best New Restaurants.
Van de Elzen hopes to add to that legacy with a new project in the pipeline, though many of the details are still under wraps.
"I am looking to open a new restaurant under my own name in August, it will be in the Auckland area.
"It's a little bit of me, it's unique, it specialises in one particular product, if you know me you will be able to read between the lines - if I tell you, I'll have to kill you."