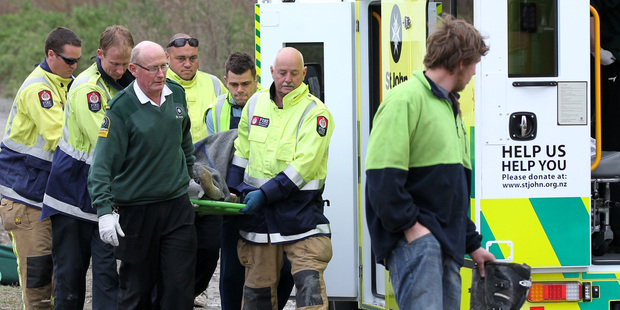 When Chev Rees regained consciousness after he was thrown from his motorcycle in a collision with another rider, his first thought was of the damage done to his bike.
The 19-year-old is recovering in Hawke's Bay Hospital after he and another motocross rider collided on the banks of the Ngaruroro River at the weekend.
He said contrary to reports from emergency services, the men hadn't been trying to do a "jousting" manoeuvre.
"The other guy crashed into me and I didn't actually know him."
The crash happened as Mr Rees and his two mates were about to load up their motocross bikes after a riding session, in a secluded area beside the Ngaruroro River on Saturday afternoon.
Mr Rees was driving along a road that runs parallel to the river, on his way back to a bike trailer, when a 42-year-old man pulled out from behind some bushes and the two bikes collided.
Mr Rees flew three metres through the air and his impact with the ground knocked him unconscious.
When he came to, his mates were comforting him and an ambulance was on the way.
"I must have been in shock because I was real cold ... I was wondering how my bike was."
His motocross bike was brand new and had only been ridden a couple of times.
The crash had smashed off the bike's exhaust.
But Mr Rees' body had bore the brunt of the impact.
He suffered a split kneecap, broken collarbone and chipped femur.
Mr Rees was taken to Hawke's Bay Hospital, where he has had two surgeries so far.
"My kneecap was in half and had to be wired back together."
He expects to be discharged from hospital in about a week.
Graeme Rees, Mr Rees' father, said his son would have further surgeries.
Mr Rees was wearing a helmet and other protective gear at the time of the accident.
Emergency services said he had been "very lucky" he didn't suffer more serious injuries.
The 42-year-old was also taken to Hawke's Bay Hospital, where he was treated for a swollen hand and superficial injuries.
A hospital spokesperson said he was discharged yesterday.
Constable Nick Renall said police were considering pressing charges.