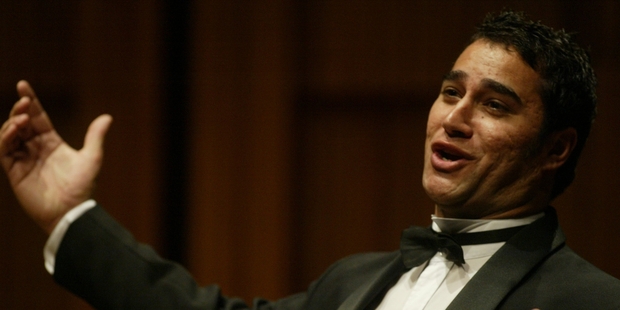 Flaxmere councillor Henare O'Keefe is excited to welcome his foster son and celebrated opera singer Phillip Rhodes back to the region after a 4-year stint abroad.
Mr O'Keefe said the internationally acclaimed baritone would return to his hometown of Flaxmere on Saturday to catch up with family and friends.
From the age of 5, Mr Rhodes, now 34, was raised by foster parents Henare and Pam O'Keefe.
"Music has always been prominent in our home," said a proud Mr O'Keefe.
"Hardly a day goes by we don't pick up a guitar."
Mr Rhodes has come a long way since he was known as "the singing barman" as manager of Breakers Cafe Bar, Hastings, eight years ago.
He won the prestigious Lexus Song Quest in 2007 and his singing career has been "full on ever since".
Days after Mr Rhodes won the competition, Mr O'Keefe received a phone call from Dame Kiri Te Kanawa, who politely introduced herself.
"She asked me, what is that son of yours doing?"
The Dame Kiri Te Kanawa Foundation awarded Mr Rhodes a grant to study at the prestigious Cardiff International Academy of Voice in Wales.
Mr Rhodes now had a passport full of stamps as his talent was in high demand around the world.
He has toured Europe extensively and appeared in concert with his mentor, Dame Kiri Te Kanawa, several times in the past year.
It has been about four years since Mr Rhodes has come home and he plans to stay in the region for three weeks.
Mr O'Keefe looked forward to watching MAC Rugby Club play Havelock North Rugby Club with Mr Rhodes at Flaxmere Park on Saturday.
Mr Rhodes would also perform at a black tie fundraising concert at Mission Estate Winery, in support of the U-Turn Trust and Te Aranga Marae, on July 25.
Mr O'Keefe said the event was almost sold out.