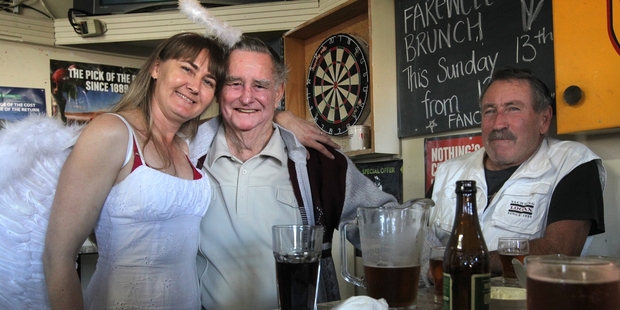 Local patrons and punters farewelled an old friend last night, as the the Royal Tavern in Napier served its last drinks after more than 150 years in business.
The establishment's owner, Sue Walsh, who bought the pub 20 years ago with her husband, said it will be sad to see the old watering hole, on Carlyle St, close.
"It's an end of an era ... We bought it way back when the building was blue and we refurbished it and put in the bar as it is today."
She said the building and the land were on the market, but she was forced to close because of rising costs.
"We kept our beer too cheap over the years," she joked.
She was unclear of how old the pub was, but said it had been moved from it's original location near Port Ahuriri, "many years" ago.
The pub hosted some farewell drinks last night with some of the old regulars, said local patron Ion Brown and regular since about 1967.
"It's sad because it was a comfortable old pub like a well-fitted shoe".
He said it had old-world Kiwi atmosphere and the locals will miss it terribly as it was one of the last of the old-fashioned New Zealand pubs in Hawke's Bay.
"I don't know where the regulars will go now.
"I bought a van that year, I remember that, and I was going there then," he said recalling his first few years at the pub.
He said another regular of the old pub was Jim Erickson who had been imbibing there since the 1940s.
In March 2010, the historic hotel was passed on at an auction. The two-storey hotel, with bars and accommodation, had a reserve price but it was not attained.
There had been some expressions of interest in the building, which dates back more than 150 years, but to date no buyers.