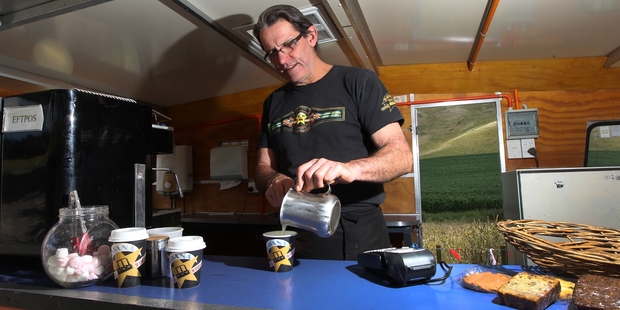 Roadside coffee vendor and former policeman Dave Robertson never expected his bucket-list run-walk-bike trip the length of New Zealand to be easy.
But he did expect something easier than the first few days, battling an "unbelievable" storm for more than three days since starting with his first steps south from Cape Reinga on Monday.
With about 200km on the clock, three nights of camps without power and hot water and a few 140km/h winds behind him, he pulled the pin on the first leg on Friday, saying: "The weather has won.
"The roads are flooded and breaking up, and the long-range forecast is for 10 days ... rain."
It wasn't any improvement on the day before, when he said: "I'm in the middle of that bloody storm. It's still pretty rough up here. It's hosing down, still blowing a gale."
It is, however, more a nuisance than any end to the trek he originally planned to do once he turned 65.
Currently 62, he's started early, and with a few breaks from time to time, the goal now is to finish by the time he's 65.
"It's challenging," he conceded. " But ... no pressure. I'm not turning it into an endurance event or anything like that. It's a personal thing," he said. "A lot of people do it."
He's not alone - also along for the ride is wife of 43 years Lynne, driving the support vehicle carrying two bikes, sometimes parking the vehicle at destinations and biking back to join her man on the trail.
"By the time we've finished she'll have done it, both south and north," he said.
With a background of Ironman contests and other endurance events, the idea came to him when he was dispensing his Espresso Man coffee beside the road at Pukehou in Central Hawke's Bay, about 18 months ago, to a customer who was stretching the legs "on his way up the North Island".
"He just said, get going, do it," Mr Robertson said.
The same could, perhaps, be said as Mr and Mrs Robertson try to evade the inclement elements of the north by returning to Hawke's Bay to sell some of his Espresso Man takes its place in the busy life, pending a trip back to take up where the venturer left off.
While there was generally fine weather in Hawke's Bay yesterday, the region was expected to have rain on most days over the next nine to 10 days, according to MetService forecasts.