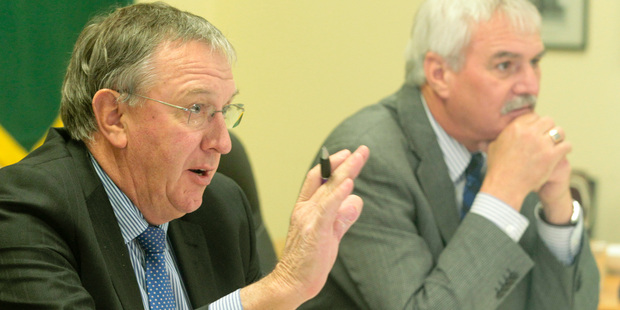 Conflicts of interest are a potential minefield for anyone in a decision-making role, especially for those in public office where the outcome of any resolution directly impacts on family and friends and on people who may otherwise have no relationship with those casting the votes.
Moreover, a result manipulated by bias or premeditation - and found to be such - could throw an entire programme of public works into disarray.
At the same time, a person holding strong views on a matter can genuinely believe they are acting for the good of all - yet still be found to be conflicted if they have overlooked, or attempted to "set aside", a distinct vested interest.
This makes the determination of who does or does not have a conflict, and whether they should declare it, rather fraught.
And while any local government politician is well-advised to err on the side of caution, in these politically-correct times it often appears as if councillors are absenting themselves beyond the requirements of duty - and perhaps weakening the democratic process by doing so.
Bottom line: we expect those we elect to do the job entrusted to them, not to seek excuse to avoid it.
But society is increasingly litigious, so due care needs to be taken to ensure the obvious lines are not crossed. Despite this reflex to petition the courts, a lack of sufficient case law to date means those lines are not as clear as they could be.
Certainly an official who is also a member of a given organisation might be expected to stand aside from a proposal concerning that organisation, particularly if finance is involved; but that should not debar them from a more generic process concerning the activities said organisation embraces.
A councillor who is also the secretary of a rugby club applying for a grant should not debate or vote on the motion, but might well do so for one proposing support for a regional rugby competition. It's a matter of divorcing the general from the particular and common sense, thankfully, tends to prevail.
Common sense, indeed, seems to have prevailed at Central Hawke's Bay District Council, with Mayor Peter Butler and two councillors including his sister-in-law Sally, deciding they have a conflict of interest in regard to investing public money in the Ruataniwha water storage scheme.
But that declaration did not arise until the next-to-last minute, and mayhap after the obvious line was already crossed. And then only because it was raised by local mother-of-three Paula Fern, not by the councillors themselves.
Yet on the face of it, one would think that owning or part-owning several properties within the proposed irrigation zone - as each of Peter and his brother Owen (Sally's husband) apparently do - would be the sort of substantive holding which automatically ran up a red flag for them when it came to participating in council process on the issue.
After all, we're talking somewhere around $20 million (rateable value) of land, and enough acreage to be a significant share of the total within the zone; more than enough, one would assume, to surpass the "more than the general public" test for pecuniary interest.
Whether it does will be a matter for the Audit Office and/or the courts to decide, should a complaint be laid.
But, given the rabid promotion of the scheme by Butler's office in spite of his potential gains from it, clearly caution is not a concept he has placed much stock in. Bit like the whole dam saga, really.
That's the right of it.
Bruce Bisset is a freelance writer and poet.