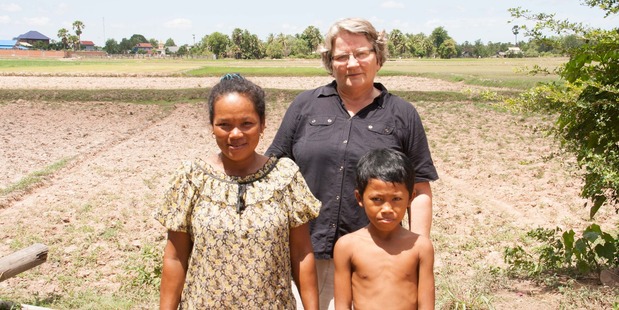 Havelock North woman Jane Muller is appealing for Hawke's Bay people to help with a food crisis developing in southern Cambodia.
Mrs Muller and her husband Hugh regularly work in the region voluntarily for the Cambodia Charitable Trust.
"The rainy season is late and families are unable to plough fields to plant their rice crops," she said.
"This has more effect than simply a longer dry season, it means that the rice crop can't be planted on time.
"By November many families will be hungry - hungrier than usual. There will be less rice available and it will be too expensive for the rural poor.
"Water is also becoming scarce for some families. The small ponds they use as a water supply are drying up and they're having to walk to bigger ponds to carry water home.
"The knock-on health effects of having such a limited water supply are huge.
"A sack of rice costs $50 - a very small price to pay to save a life and there's no doubt that it would."
The trust support eight schools in rural, poverty-stricken areas in southern Cambodia.
She said teachers already have problems with malnourished children having difficulty concentrating, having dizzy spells, and frequently fainting. "We're particularly involved with enabling girls to continue their education. Poor, uneducated rural families are vulnerable targets for the "agents" who come from the city looking for young girls to buy for slavery and prostitution."
"One hundred per cent of all donations goes to Cambodia - we don't take any administration fees or expenses."
To donate money for rice, visit cttnz.org.nz.