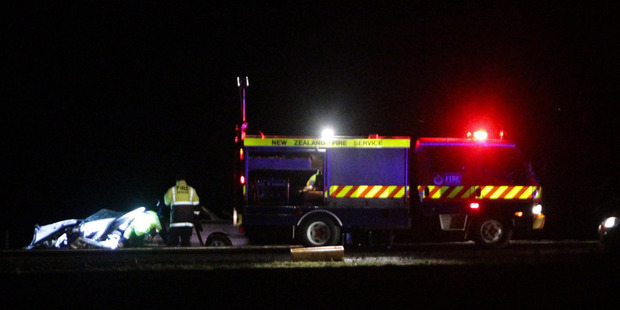 Two women are in a critical condition following a collision in Napier last night.
Eastern District Command Centre Senior Sergeant Ross Smith said two cars, with a single occupant in each, collided on Prebensen Drive, Napier, at 6.25pm. The crash happened near the Prebensen Drive/Hawke's Bay Expressway intersection.
St John Heretaunga territory manager Brendon Hutchinson said both drivers were trapped and the Fire Service cut them from their vehicles. The women were taken by ambulance to Hawke's Bay Hospital, Hastings.
A hospital spokesperson last night said a woman in her 50s and another in her 20s were in a critical condition.
Central Fire Communications shift manager Murray Dunbar said three fire crews and three ambulances attended the scene. Prebensen Drive was closed for about three hours and traffic was diverted.
Mr Smith said the Serious Crash Unit was investigating.
Meanwhile, the Central Hawke's Bay parents of a man who died after his truck and a train collided at a railway crossing are still trying to come to terms with his death.
A family spokesperson said the Ongaonga parents of George Robert Ellis, 22, were "really struggling" after his death in Christchurch Hospital on Tuesday.
Police said the incident happened about 8am on Monday, when Mr Ellis was in his truck and crossed in front of a freight train while going through a give-way controlled railway crossing in Ashburton.
Mr Ellis' truck was extensively damaged as the train pushed it off the railway line and into a nearby paddock.
The front of the train was badly damaged and it stopped 500 metres along the line.
Mr Ellis died in Christchurch Hospital as a result of critical injuries received in the crash.
Witnesses had advised police that the train sounded its warning device on more than one occasion immediately before the collision.
The family spokesperson said Mr Ellis' death had come as a shock to his parents, who were "really struggling" and needed time to grieve.
"It's been a pretty rough 48 hours for them."
Mr Ellis grew up in the region and attended Ongaonga School. He had been living in Canterbury, where he recently graduated from Lincoln University.
He played division one rugby for the Southern Rugby Club, which is part of the Mid-Canterbury Rugby Union.
Mid Canterbury players wore black arm bands during last night's Ranfurly Shield rugby clash against Counties Manukau, in memory of Mr Ellis.
A minute's silence was held before the match in memory of both Mr Ellis and 17-year-old Northland player Jordan Kemp, who died after collapsing during a game at the weekend.
Among the photos and tributes posted on Mr Ellis' Facebook page yesterday was a message from a teammate who described Mr Ellis affectionately known within the team as Badger - as an immediate cult hero and everyone's favourite player within a month.
Others spoke of his infectious attitude and described him as a caring, humble, all-round good guy.
Southern seniors manager Warren Smith said the team was devastated.
"Right from the word go, George fitted like a glove into our environment and our team."
He said Mr Ellis had immersed himself in the club and had been developing into a good player on the left wing, recovering well from an old shoulder injury to cross for four tries for Southern this year.
Mr Ellis' funeral will be held in Ongaonga.
The Southern club is planning to hold a memorial service for Mr Ellis, with his employer also involved.
The number of fatal road crashes in New Zealand so far this year is 142.
- additional reporting Ashburton Guardian