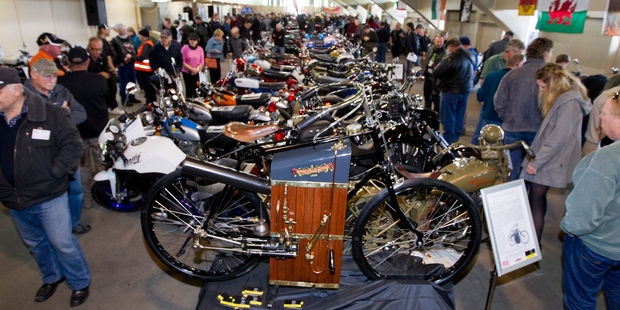 Vintage and rare motorcycle's were on display during the weekend at the Hawke's Bay Showgrounds as the region's Classic Motorcycle Club held the Evolution of the Motorcycle show.
Hawke's Bay Classic Motorcycle Club president Eric McDougall said the stars of the Hastings show were a New Zealand made 1992 Britten V1000, worth $1.1 million and one of only 10 in the world, and a replica 1896 steam powered Roper bike from America.
He said the 39-year-old club last held a vintage motorcycle show six years ago, when they hosted the The World's Fastest Indian, Burt Munro's famous Indian Scout motorcycle.
He was excited about the Britten and steam powered motorcycle on display, and said a local man had purchased the 1896 replica on Saturday for an undisclosed amount.
"The Britten is up for sale for $1.1 million. It would be great to see it remain in New Zealand," he said. "There were only 10 originally hand made in Christchurch and the other nine have all gone to wealthy foreigners."
The Britten is a five speed, high powered machine, with a maximum speed of 300km/h. The steam powered bike, which runs on coal, surprisingly has a maximum speed of a little more than 96km/h.
He said the show, which he estimated was attended by 10,000 people during the two days, was raising money for the the Lowe Corporation Rescue Helicopter, local Girl Guides and the new kitchen.