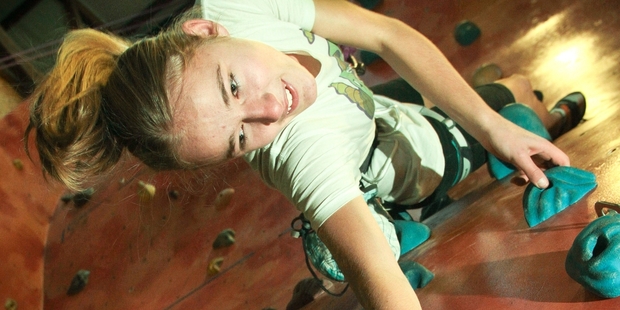 Napier teenager Lucy Whitehead was like many youngsters growing up - she loved to climb things.
Except that while most kids climb to a certain level and then leave it at that, Lucy just kept on climbing and now could be heading for the very top.
In September, she will join the rest of the dozen-strong New Zealand team and head for the competitive climbing walls of New Caledonia where the sport's World Youth Championships are being staged.
It will be the 15-year-old's second shot at an international event - last year she competed at the Oceanias, also in New Caledonia, where New Zealand climbers took on Australian and New Caledonian competitors.
She finished a creditable seventh.
"But this is the first time I will have been to a full international competition - there will be some really good climbers there so it should be great fun," she said.
Smiling, she said she first started to climb as soon as she could walk, adding that it was "no surprise really" as her folks ran a climbing wall facility at Tongariro.
They moved to Hawke's Bay about five years ago.
"I grew up at the climbing wall."
It is the challenge and the problem solving required to get to the highest of heights in the time limits imposed, which are around six minutes, which appeals to her.
Strapped into a harness, climbers must attach clips on their safety rope to "quick-draw" fittings which are spaced about 2m apart as they climb upwards.
There is no fear of heights of course - in fact in Lucy's case it is the opposite.
"I prefer the overhangs - the upside-down parts of it."
"We are very proud of her," her father, Tom, said.
"She's very focused and very determined to do well."
Getting to the championships however takes more than determination, a head for heights and sheer skill.
It takes money, so when Ahuriri restaurateur Jamie Buckley, who runs Meximama, heard she had made the squad he decided to fast-forward a determination of his own - to get the long-closed climbing wall attraction at West Quay open and up-and-running again.
It neighbours his restaurant and he had been opening it from time to time for one-off events and corporate outings, as well as for devoted climbers like Lucy to practise at.
"We really want to do what we can to support her," Mr Buckley said.
So one day next week, after he opens the doors to the climbing walls for the school holidays from next Tuesday, the proceeds for the day will go into helping fund the teen's journey to the championships.
And depending on how the re-opened attraction goes, he will look to keep it open so that other budding climbers can follow in Lucy's hand and footholds.
"We'll work things out - we'll see how it goes."
Lucy said having the wall available was critical, although because there were few people actively using it at her level she effectively had to work as her own trainer.
"It's really nice of them to do this for me - I want to do well for everyone."